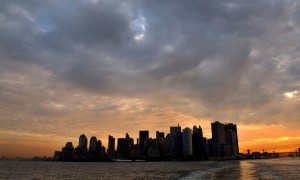 All that clangor coming from Zuccotti Park, the chanting and beating of drums—what if it is not a protest of economic inequality and corporate malfeasance but instead a celebration? For there is good reason to revel downtown, as the office leasing market is having a bit of a boom. Wall Street may be occupied, but so are the commercial spaces surrounding it, according to a new report to be released tomorrow by the Downtown Alliance.
Lower Manhattan has seen a rise in office occupancies across a wide swath of industries, from the typical FIRE firms to media and healthcare concerns. The neighborhood is on track to have its best year since 2006, with 4.8 million square feet leased up through the third quarter of 2011.
That is 104 percent as much as last year, and even if skeptics might point to Condé Nast as the only reason for this good news, there has been 1.6 million square feet of new leases in the past quarter alone, almost twice as much space as Condé took in the summer. Even without that mammoth deal, this year is 61 percent ahead of last year. Leasing through the third quarter has already surpassed all activity for last year, as well as topping 2008 and 2009.
"It's certainly great news when there's a lot of bad news out there," Nicole LaRusso, senior vice president for planning and economic development at the Downtown Alliance told The Observer.  "It's great to see there's confidence in the Lower Manhattan market, that we're building momentum after coming out of the doldrums."
Even if the commercial market is out-performing years past with or without Condé, Ms. LaRusso believes that deal, which has been in the works for almost two years, has been an important catalyst for the deals that have followed. The biggest lease is Oppenheimer's 269,000-square-foot lease at 85 Broad, followed by MSCI taking the last block of space at 7 World Trade Center in a 125,000-square-foot lease. Engineering firm ARUP was third, followed by Centerline Capital, International Business Times and the city's Health and Hospitals Corporation.
Bob Constable, an executive director at Cushman Wakefield who has been working downtown for three decades, said the neighborhood has passed a psychic barrier, and it would take much to shake it off. "It's been a very robust year down here," Mr. Constable said. "Obviously, when you have a million-footer, that does a lot for leasing activity. When you have a marquee building like 7 World Trade leasing up, that is good, but it has been robust all the same."
Mr. Constable said a big boon had been the leasing up of the bottom-of-the-barrel spaces, many of which had been taken over by new, better-capitalized landlords. "We've burned off a lot of the most deeply discounted spaced, and there is less uncertainty out there" he said. Even if the economy is unsteady, leases are coming due, so firms are bound to get back into the market. This could actually make downtown more attractive—if firms are looking to trim expenses, a Lower Manhattan relocation could help grow margins while maintaining with a zipcode starting with "100."
But even if downtown is still a discount district, the appeal is first-rate, and is expected only to grow as families and firms continue to live and work south of 34th Street. "As we've seen over the past decade, downtown is the place to be," Ms. LaRusso said.
Millions of square feet are coming online in the neighborhood, not just at the under-construction World Trade Center, but also a huge block of space Bank of America is vacating at the World Financial Center across the street. Mr. Constable believes Brookfield will be able to fill the space, especially as neighbors like Goldman Sachs improve the area's amenities. "I'm not expecting a spike in rents or the kind of pricing acceleration we saw in 2005-2007," Mr. Constable said. "But I do expect to see things improving.
"It's hard to project the future, but I don't think there's anything we've seen that indicate this will be falling off anytime soon," Ms. LaRusso said.
Wes Rudes, a senior vice-president at tenant reps CresaPartners, is less sanguine about the future. "Rents aren't going up, concessions aren't going down," he said. "I don't see the economics of the deals changing, which is the most important indicator."
Besides the potential for a worsening economy, he sees Occupy Wall Street as weighing heavily upon his clients. "The ones whose leases are coming up, they're all saying, 'You gotta get me out of here,'" Mr. Rudes said. "It's been especially bad on Broadway."
Maybe those drum circles were a bit premature.
Correction: A previous version of this story misstated Nicole LaRusso's name as "Nicole Russo." The Observer regrets the error.