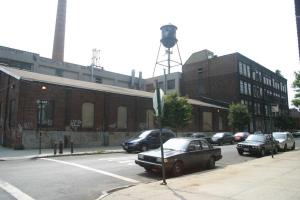 It was perhaps inevitable. Even a beloved boutique manufacturer could only survive for so long on the condo-crazed shores of Williamsburg. Brooklyn Brewery was the city's first big-time microbrewer and helped bring the sudsy movement to the East Coast in the 1990s. Now, the brewery's home has been quietly sold, and it looks like a housing conversion of some sort is in the mix.
The 135,000-square-foot five-building complex, originally the Dr. Brown's Soda factory, sold for $16 million, according to Crain's. The brewery, as well as two design studios, still have years left on their lease, 14 years in the brewery's case.
The reason for the sale was given as personal, but it does raise questions about the future of the lager-maker in New York. Steve Hindy, its founder, spent years looking for new space to brew in, but complained the city had become unfriendly to manufacturers. After scouring the five boroughs for new facilities, and considering a move upstate, Brooklyn Brewery eventually decided to stay put in Williamsburg and expand within the complex.
Now that the site has been sold, and could go residential, it simply proves Mr. Hindy right, that there is not enough being done to protect the city's industrial base. Just take a look next door, where Jed Walentas is building a new hotel in the manufacturing district thanks to a zoning loophole.
UPDATE: Brooklyn Brewery boss Steve Hindy emailed The Observer to say that the site housing the brewery itself, 79 North 11th Street has not been sold, but instead two buildings used as warehouse by the brewery, located at 118 North 11th Street. This still creates a challenge for Brooklyn Brewery.
The warehouse is an important part of our business. It houses the "warm rooms" and "cold rooms" where we mature our bottle-conditioned beers like Brooklyn Local 1. It also contains our barrel aging rooms where we store some beers in whisky barrels for a few months before bottling. Brooklyn Black Ops is conditioned in bourbon barrels in those rooms.
Mr. Hindy agrees that allowing non-industrial business types into manufacturing areas, and even the supposedly special Industrial Business Zones, creates problems for businesses like his.
The Industrial Business Zone is a great concept, but allowing hotels, banks, chain stores, clubs and other retail businesses does raise the bar (rent) for industrial tenants. The brewery is surrounded by a bowling alley/club, a 72-room boutique hotel and a very popular used clothing store–all of which can afford higher rents than we can. I would like to see IBZs that are limited to industrial tenants.
And just because he has a lease through 2025, he is not convinced the landlord will not try to act sooner than that. "It will be interesting to see if the new owners of 118 North 11th St try to force us out," he wrote in his email.
Also, an earlier version of this post pictured 79 North 11th Street, not 118 North 11th Street.
mchaban@observer.com