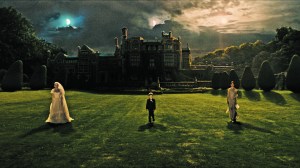 The loopy indulgences of deluded Danish nut Lars von Trier, who recently declared himself a bona fide Nazi in publicity-grabbing world headlines, are no longer called films, they're considered provocations—shunned by discerning audiences worldwide and embraced by only a small gaggle of clucking, pretentious critics and film festival filmgoers. Melancholia is his latest pile of undiluted drivel, nauseatingly filmed by a wonky hand-held camera and featuring a crazy, mismatched ensemble headed by Kirsten Dunst, who won an acting award in Cannes last year for looking totally catatonic.
It opens with a very long, unnecessary closeup of Ms. Dunst's face looking ravaged, eyes at half-mast, which sustains the mood of deadly ennui for the next 135 minutes of torture. She is on her way to her own wedding reception with a dopey, submissive groom (woefully miscast TV vampire Alexander Skarsgard), but the plans are overshadowed by an unnamed planet that has dislodged itself from the solar system and is hurtling toward Earth in slow motion. If you've turned the page already, I don't blame you.
The unspeakable disaster that follows drags on in two divided parts, named after a pair of estranged sisters named Justine and Claire. Justine (Ms. Dunst) is the mentally deranged, nymphomaniac bride, a depressed ad executive badly in need of an expense account in the nearest asylum. Claire (Charlotte Gainsbourg) is the sane, pragmatic one who is throwing the hugely expensive wedding at her country estate replete with golf course, horse stables and a grumpy, exasperated husband (Kiefer Sutherland) with too much money and obscenely bad taste, located either on Long Island or somewhere near the palace of Versailles. Claire is a perfectionist who has planned the party down to the precise moment of cutting a storybook wedding cake that looks like something Leslie Caron danced on in The Glass Slipper. Stuck in a stretch limo, the newlyweds are two hours late, and Claire is ballistic, to the delight of her wasted, alcoholic father (John Hurt) and sadistic, poisonous ex-hippie mother (Charlotte Rampling), who wishes everyone nothing but misery. Hand-held cameras float around the room in a dizzying swirl, giving motion sickness new meaning. When it comes time for the Champagne toast, the crazy mother and the neurologically unhinged bride, who suffers from acute melancholia, both lock themselves in their rooms and soak in their bathtubs. When the moment finally arrives for the bride and groom to consummate their wedding night, Justine wanders out to the golf course and ravages the young man her boss has hired to watch her. She tells everybody off and quits her job, but before the sun comes up the groom packs his suitcase and disappears, muttering, "It could have been different." So could the war in Iraq, but this is Lars von Trier, who gives Ms. Dunst her most bracing line: "What did you expect?"
But wait. This thing is not over. Somebody announces: "The red star's missing from Scorpio!"—a fatal warning that the second half of the movie is about to begin. The killer planet is five days away and everybody talks about it—interminably. Now it's the spinning planet that is called Melancholia. Don't ask. Claire, who has wasted too much valuable time caring for her sister, tries to shock Justine back to sanity by baking a meat loaf. It doesn't work. Justine says it tastes like ashes, and tries to beat her horse to death with a riding crop. After what really does feel like five days trapped in the dark while I mentally played word games to stay awake, the screen turned white. The errant planet has exploded and the end of the world has arrived, not a moment too soon. Nobody would believe Kristen Dunst and Charlotte Gainsbourg as sisters even if their cradles were switched at birth. It's just one of the mysteries in Melancholia. Allegory in which the planet and Justine's mental breakdown are paralleled? Apocalyptic vision? A crazy director's plummet to deranged surrealism? What, exactly, is the point? Only the director of a pile of crap that includes Dogma, Dancer in the Dark and Antichrist knows for sure, and even that is severely doubtful. Meanwhile, the critics who fill the quote ads for this dirge with words like "masterpiece" keep me manic with mirth. Wander into this idiocy and by the time it's over, you'll know the meaning of "melancholia" yourself.
rreed@observer.com
MELANCHOLIA
Running Time 136 minutes
Written by Lars von Trier
Directed by Lars von Trier
Starring Kirsten Dunst, Charlotte Gainsbourg and Kiefer Sutherland
0/4