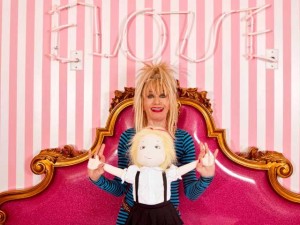 Eloise, Eloise, Eloise. Why is New York so infatuated with the unruly urchin anyways? In Kay Thompson's books, she's an over- indulged rich girl who wreaks havoc for the Plaza's hardworking staff. It seems she always gets what she wants, and his holiday season proves no exception. This year the Plaza will have a giant Eloise-inspired Christmas tree decorated by none other than Betsy Johnson, Voyeur reports.
After spending the weekend recovering from your in-laws Thanksgiving visit, you can head to the Plaza for their "Tree Lighting Tea" at the Palm Court and see the arboreal shrine to Eloise for yourself. Champagne and mocktails for the little ones will be served.
This isn't Ms. Johnson's first Plaza venture. The acrobatic designer is responsible for an entire Eloise-themed suite at the hotel as well. The fruits of her publicity-seeking labors are finally paying off! Ms. Johnson will get her very own pop-up shop at the Plaza this winter.
So, if you're looking to celebrate overpriced 80's-inspired clothing or bourgeois storybook characters, the Plaza is the place to go this holiday season.