Credit Agricole has renewed approximately 350,000 square feet at 1301 Avenue of the Americas in one of the largest leases to get done in the second half of 2011.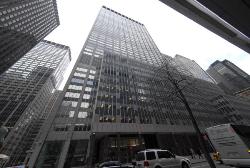 The French bank and financial firm has extended its hold on a block of floors near the base of the 1.8 million square foot tower, owned by the Paramount Group, and also two tower spaces in the 45-story property. The term of the lease is for 10 years according to a source. One person put the rents in the deal in the $80s per square foot, though The Commercial Observer could not confirm those rates by press time.
Credit Agricole is the largest retail bank in France. It has long had its New York headquarters at 1301 Avenue of the Americas, which is known as the Credit Agricole Building. The company leases floors 13 through 20 in the property and two smaller floors higher up.
The company had been in the leasing market in search of options for months and for a time was rumored to be potentially interested in a deal at 825 Eighth Avenue, the West Side office builidng known as Worldwide Plaza. Most tenants who had been shopping at that location were eventually pushed off the building by the Japanese financial company Nomura, which absorbed virtually all of Worldwide Plaza's cavernous vacancy in a 900,000 square foot deal there during the summer.
Credit Agricole's lease, at least for the moment, settles some rising concerns among real estate experts that European financial insitutions could cast sublease space into the market next year as a result of that Europe's ongoing debt crisis. Many brokers have cast a watchful eye towards banks like UBS, Credit Suisse and Societe Generale, though none have yet announced any intent to downsize in the city.
The tenant representation brokerage Studley, led by the company's chairman and CEO Mitchell Steir, represented Credit Agricole in the renewal deal. Paramount uses an in house leasing team led by one of the company's top leasing executives Ted Koltis to tend to its multimillion square foot Manhattan portfolio, which includes several trophy buildings besides 1301 Avenue of the Americas such as 712 Fifth Avenue and 1633 Broadway. Neither Mr. Steir nor Mr. Koltis could be reached.
A spokeswoman from Credit Agricole declined to comment.
Dan Geiger, Staff Writer, is reachable at DGeiger@Observer.com