Fancy French fashion powerhouse Perrin Paris will be launching its first flagship New York City store at the Carlyle Hotel, The Commercial Observer has learned.
The century-old, family-run luxury leather goods company–founded in 1893, to be exact–will rub elbows with fellow swanky retailers Vera Wang, Stubbs & Wootton and Yves Delorme Linens at the 987 Madison Avenue hotel.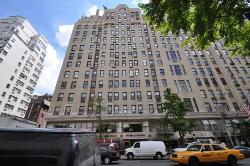 Perrin Paris will occupy 550 square feet of ground level and lobby retail space previously occupied by Edith Weber, an antique jeweler.
Perrin Paris signed a five year lease at $1060 per square foot.
Faith Hope Consolo and Joseph Aquino, Chairman and Executive Vice President of Prudential Douglas Elliman's Retail Group, respectively, represented Perrin Paris. Judson Realty represented The Carlyle Hotel in the transaction.
"This will be their US flagship," said Ms. Consolo.
Perrin Paris' latest deal is further proof that Madison Avenue is restoring its luster as a go-to destination for luxury brands, she added.
"Everybody is mad for Madison Avenue. A year ago it was nothing now it's everything," said Ms. Consolo, who predicts rents to be back to pre-Recession levels at the end of 2012.
Perrin Paris already has stores on North Beverly Drive in Beverly Hills and on rue des Petits Champs in its native Paris.
Having its new NYC flagship was an "essential" move, said Mr. Aquino in a statement.
"Perrin Paris would do well anywhere along Madison Avenue, but locating it in the Carlyle Hotel will provide an instant, international customer base," he added.
DRosen@Observer.com