The Russian bank VTB Group is rumored to be in talks to occupy a floor at 452 Fifth Avenue, The Observer has learned.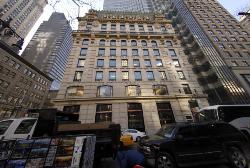 Tatiana Tarassenko, a managing director at Studley, is representing the firm. Reached in her office, however, Ms. Tarassenko declined to comment for this story.
A CBRE team led by Howard Fiddle and Craig Reicher represents 452 Fifth Avenue's landlord, the Israeli investment firm IDB Group. CBRE execs couldn't reached.
Details of the transaction were vague at press time, including which floor VTB was in play to occupy. Several floors at the property, ranging from 14,000 to 16,000 square feet, are currently available. Recent rents in the 650,000-square-foot, 30-story tower, which overlooks Bryant Park, have stretched above $80 per square foot.
The transaction, if it gets done, would be the latest in a series of deals at 452 Fifth and at least the second tenant involved in the Russian investment industry.
In September New Century Holdings, a private equity and venture capital firm, took the building's full 24th floor, a 16,500 square foot space. NCH, as the firm's name is abbreviated, invests in companies and businesses in both Russia and countries that were formerly part of the Soviet Union.
NCH's lease was for 15-years and rents reached above $80 per square foot. A CBRE group led by broker Ben Friedland, a specialist in high end deals, represented NCH in that lease.
Joe Cayre purchased 452 Fifth Avenue with investment partners for approximately $300 million, or a little over $450 per square foot, during the depths of the recession, in what now looks like a relative bargain considering the leasing activity the building has received in recent months and the high rents it has been netting.