An over 20,000 square foot retail space at 100 Broadway formerly occupied by the bookselling chain Borders has found a new taker.
Walgreens has reached a deal to lease the space for about $2 million in annual rent according to sources with knowledge of the transaction. The drug store giant will either operate its own store in the location or use the space for a Duane Reade, the New York City based pharmacy that the company purchased last year for $1.1 billion.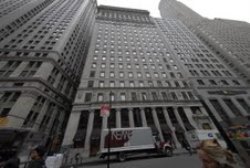 The space, which is about 22,000 square feet in size, formerly was home to a Borders bookstore but sat vacant after the company declared banruptcy at the start of the year and in July subsequently opted to liquidate its national portfolio of about 400 stores, including nine locations in the city according to reports.
The real estate investment company Madison Capital acquired 100 Broadway in 2010 after buying debt on the property and foreclosing on the roughly 375,000 square foot building's prior owner, the Japanese real estate firm Hiro Realty. Madison Capital used the technique to move in on another Hiro asset as well according to written reports, 655 Fifth Avenue.
The firm installed a team from the real estate services firm CBRE to handle leasing the building's office space. It selected a group from the rival firm Cushman & Wakefield to lease the retail space.
Though the deal with Walgreens will fill a prominent vacancy at 100 Broadway, in some retail circles, the deal may come as a bit of a letdown. Some leasing experts and neighborhood advocates had hoped the space would attract a tenant that would add to the neighborhood's rise as a shopping district with destination retail. Though drug stores fill a large niche in the city for food and snacks on the go, prescription drugs and as a convenient stop for other odds and ends, most retail experts concede that the use is generally an un-sexy addition to the streetscape.
Jeff Winick, chief executive of the retail brokerage Winick Realty, handles leasing for Duane Reade. Mr. Winick could not be reached for comment. Executives as Madison Capital also could not be reached.