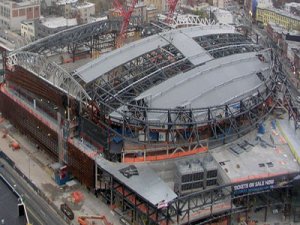 Brooklyn's new (entirely uncontroversial) Barclays Center is slated to open next September with pomp and circumstance brought by Brooklyn's own Jay-Z before (hopefully) playing host to what will be the newly-minted Brooklyn Nets sometime around Halloween. But the current lockout that has currently caused cancellation of more than a quarter of this NBA season seems to be worsening as players have rejected a new offer and are now filing federal suit to force NBA ownership into court.
The NBA be damned, we officially have a gameday at "The Brit BrickHouse" (we're entirely taking credit if this nickname catches on).
Kentucky and Maryland will tip it off on November 9th, 2012 at the crossroads of Brooklyn, in what will definitely be the first college game at the new arena, and maybe the first game of any kind if the labor strife currently engulfing the NBA lasts into next season. The announcement of the game was made by a group including Nets ownership, officials from both schools and Brooklyn boy/Maryland legend Albert King.
In addition to the Kentucky/Maryland tilt, there will be an "undercard" of sorts on the November 9th bill as Long Island University and Morehead State will play the second game of what is being billed "The Barclays Center Classic."
But whether the Nets get out from under paperwork in time to beat the metaphorical clock, it will come as a comfort to all that there will assuredly be some roundball being played in the County of Kings.
tmcenery@observer.com