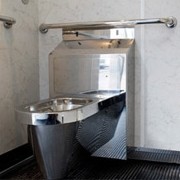 Bad news for the Occupy Wall Street protestors and tourists citywide: the mayor's plan to install 20 public "pay to use" toilets is being met with fierce objections from communities around the five boroughs, the New York Post reports.
People are evidently worried that plopping down public restrooms will attract criminals and the homeless. Ostensibly preferring that the less desirable potty patrons relieve themselves in public parks instead, New Yorkers living in the areas surrounding the planned toilets have stalled the mayor's commode project.
The "pay to flush" toilets, like most things provided by the City, would be plastered with ads, supposedly securing funds for the Department of Transportation. No matter how many New Yorkers have to go, it seems their loose change simply cannot cover the cost of the expensive johns.
For the time being, we'll have to stick with Starbucks.
eknutsen@observer.com