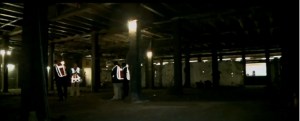 Two months ago, we were introduced to James Ramsey and Dan Barasch, the duo who were proposing to turn the abandoned Delancey trolly tunnel underneath Essex Street into an eco-friendly environment from the future called the Low Line.
Despite the very real chance that the Low Line won't get any public funding (making it near impossible to build), the media has picked up on this whimsical idea…mainly because we had no idea that every time we looked across the platform on the JMZ to Brooklyn, we were staring directly into a 108-year-old cavern. With signs of human life.

Now, the M.T.A. has made a video of the space, apparently to drum up more attention to the abandoned trolly station. M.T.A. superstar Peter Hine narrates. Check it out!