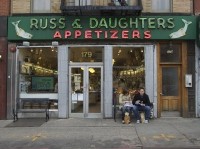 "When I was naïve and I thought I could fight destiny, I worked in the art world, out at SFMOMA," Niki Russ Federman told Gallerist over the phone this weekend. But destiny has taken hold. Ms. Federman now owns and operates the family business, the redoubtable Lower East Side appetizing store Russ & Daughters, along with her cousin Josh Russ Tupper.
However, through Dec. 11, a touch of Ms. Federman's past career is on view in the front window of her shop in the form of a 24-hour-a-day video art show called "Videobytes," which was organized with Chelsea and Shanghai art dealer and VIP Art Fair co-founder James Cohan, who is an old friend of Ms. Federman and a longtime Russ & Daughter devotee.
"My go to, without question, is The Heebster," Mr. Cohan said by phone, referring to a sandwich that features whitefish and baked salmon salad with horseradish dill cream cheese. "It is the knock-down, drop-dead best sandwich I have ever had," the dealer rhapsodized. "It is near nirvana. The horseradish cream cheese cuts the richness of the fish salad on the everything bagel. It's almost better than a great work of art."
On a flat-screen television in a window at the front of the store, there are works that span the history of video art, from early pieces by John Baldessari and Gordon Matta-Clark—himself a downtown food proprietor, though only briefly, as owner of SoHo's Food restaurant in the early 1970s—to contemporary work by Hiraki Sawa and Kate Gilmore.
In Ms. Gilmore's piece, the artist smashes clay pots, causing orange paint to splatter across the floor, like gigantic pieces of salmon roe exploding with each delicious bite of a sandwich. (This is, at least, what we thought as we visited recently, and stood outside watching the videos while eating a Daughter's Delight, which sports Gaspe Nova and wild Alaskan salmon roe with cream cheese on a bagel.)
"That is purely suggestive," Mr. Cohan said, laughing, when we proposed our culinary interpretation of Ms. Gilmore's work. "The overriding theme for the show was process." Ms. Federman agreed. "It's not a shop you go to buy something, make a transaction and leave," Ms. Federman said. "You see the artisanal craft of slicing. You linger, you watch. I came to appreciate Russ & Daughters as a living museum, as a theater for food."
Ms. Federman had long been troubled by the limitations of the window where the videos on view. "How do you capture almost 100 years of history in one display?" she asked. "I think of Russ & Daughters as a gestalt, and the window is never going to cut it. I thought it would be interesting to use it to show art." Mr. Cohan had the same idea, independently proposing a video show earlier this year while they caught up on the phone.
As the shop approaches its centennial, Ms. Federman is also thinking about its history in the area, and her shop's long connection to the arts. "The Russ daughters were here in the heyday of the vaudeville and Yiddish theaters," she told us. "They knew all of the famous Yiddish actors, musicians, bohemians of their day. My father ran the business from the late '70s during the dark ages of the Lower East Side and the East Village. It was here for the artists and musicians who had the chutzpah to live down here. This is continuing a conversation that has taken place over decades."
"Russ & Daughters has always been a center of culinary delights," Mr. Cohan said, "but it was on the fringes for a long time. Video was also on the fringes for a long time. We have a changed universe today. This show is about tipping your hat to tradition, to people who stuck to their guns."