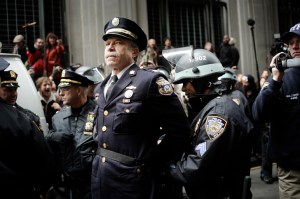 Retired Philadelphia police Captain Ray Lewis, arrested yesterday after joining up with the Occupy Wall Street process, has quickly become one of the more iconic figures from the movement's two month's anniversary.
After we noted his arrest and put up several pictures of the event, we were contacted by everyone from The Associated Press to worried parents who thought they could find their son, who had been in the same paddy-wagon as Captain Lewis.

Here is what we know so far: Captain Ray Lewis has been released from custody. An unconfirmed Twitter account @CaptainRayLewis puts his release time at 9:00 p.m.
According to another source, Captain Lewis may not have ended up being charged with any assault.
From an email we received, "Regarding Ray Lewis":
When the legal aid (or whatever they're called) heard that ___ was ziptied next to Lewis, they asked ___'s mom for more info.

She and I knew that Lewis had been freed, or apparently so, much earlier .  The lawyer related that his people had heard press reports of Lewis' arrest all day but that his name never showed up on the arrest rosters they were given. This even as of around midnight.

I'm prepared to conclude that Lewis, unlike ____, was not charged. And of course he was not released, alone, from Pearl St in the middle of the night.
We called the Office of the Deputy Commissioner, Public Information to see if we could find an initial charge for Captain Ray Lewis.
Who is "Captain Lewis?" asked the confused DCPI spokesperson. We had to clarify that Captain Ray Lewis wasn't NYPD, and was also retired.  Then we were told, "We're not identifying individual charges from the arrests yesterday…there's just too many people." We asked if it would be possible to find out if Mr. Lewis had even been officially arrested, according to their records.We were put back on hold, and then then told that Captain Lewis had been arrested on three charges.
"One violation of local law, and two counts of disorderly conduct including disrupting traffic and refusing to move on."
So officially, the charges have been filed. We are still looking to get in touch with Captain Lewis, whose Twitter feed says he'll back back at #OWS today. If you have any information, please let us know!
(Photos via Johnny Milano)