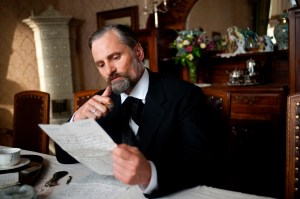 An antiseptic departure for shock jock David Cronenberg, A Dangerous Method is a psychological tug of war between the father of modern psychiatry, Sigmund Freud (Viggo Mortenson), and his disciple Carl Jung (Michael Fassbender) over the mind and sex of an overwrought mental patient named Sabina Spielrein (Keira Knightley), a mad Russian with a craving for spanking. Whacking her on her naked bottom must have worked. She ended up, years later, analyzing patients of her own. Too bad she didn't also analyze this movie. It would have saved so much wasted time.
A grim 1912 period piece set in a mental clinic in Vienna at the dawn of 20th century enlightenment, the movie flirts with the peculiar relationship between novice Jung and mentor Freud while they both flirt with the same patient, but aside from Ms. Knightley's lurid whupping without her panties on, nothing ever happens. The "dangerous method" in the title refers to the experiment by both analysts to radically treat the same female patient by taking her to bed. Not very scientific, but very, very talky. The textbook talk is more layered than the plot. The two doctors discuss their opposing theories in such a drawn-out series of academic letters between Austria and Switzerland that by the time they're finished, the patient has developed an abstract hypothesis of her own. By the time they get around to testing their primal interest in Sabina between the uncomfortable-looking starched cotton sheets, they (as well as esteemed screenwriter Christopher Hampton) might be unhinged to discover their audience is snoring. Mr. Hampton adapted the script from his own stage play The Talking Cure, and it shows. Veteran Polish cinematographer Peter Suschitzky, who shoots all of Mr. Cronenberg's films, gives everything the refined sheen of polyurethaned mahogany.
Considering herself vile, filthy and corrupt because she lusts for humiliation, Sabina listens to the inner voices of angels, then shrieks, shakes and stutters her way into a nervous fit while she squishes her food between her fingers in what I assume Ms. Knightley considers great acting. At this year's Toronto International Film Festival, everyone was twittering furiously about her titillating spanking scenes, but they hardly made up for the huge lapses of tedium between smacks. As Freud, who believes the basis of all insanity is sexual repression, and Jung, who is monogamous and resistant to such extremist views, the miscast male stars are bland as dust and look like a box of Smith Brothers cough drops.
In his two previous collaborations with Mr. Cronenberg, Mr. Mortenson's full-frontal wrestling scene in Eastern Promises and twisted gang killer-turned-suburbanite in A History of Violence offered more challenges than anything in the buttoned-up role of Freud, and after Mr. Fassbender's brutally punishing role as IRA hunger-strike-martyr Bobby Sands in Hunger and his rollicking nudity as a sex addict in Shame, I can't imagine what attracted these two megahunks to such a bore.
rreed@observer.com
A DANGEROUS METHOD
Running Time 93 minutes
WRITTEN BY Christopher Hampton
DIRECTED BY David Cronenberg
STARRING Michael Fassbender, Keira Knightley and Viggo Mortensen
2/4