A gilded age mansion that once doubled as a conference center has been picked up for $6.5 million by a nonprofit group with strong ties to a Chinese real estate website.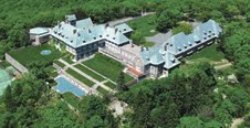 The Arden House, a 100,000-square-foot mansion in upstate Harriman, NY, was sold by The Open Space Conservancy to the Research Center on Natural Conservation, a not-for-profit whose principals are part of SouFun Holdings, a Beijing real estate website.
In 2010, SouFun Holdings had purchased a training center formerly owned by the American International Group for $46 million.
Robert Freedman and Richard Warshauer of Colliers International represented The Open Space Institute in the sale. Charlotte Cheung of The Ariel Group Realty represented Research Center on Natural Conservation.
The Open Space Institute, the previous owners of the Arden House, had originally purchased the place from Columbia University for $4 million in 2007 with the plan of eventually selling the 450 acres of protected land to the state of New York.
Open Spaces soon decided to sell the asset because it no longer fit into their plans, said Mr. Warshauer. "They found that they had better uses for their resources," he said.
He conducted a "difficult" international search, drawing interest from educational institutions, various nonprofits, and private buyers as well. The property had sale restrictions—it can only be sold to another nonprofit. Also, 400 of the property's 450 acres had a conservation easement, protecting the land and its surrounding trees.
"So we had two strikes on us going out to the market, and it required a little creativity," said Mr. Warshauer.
He and Mr. Freedman reached out to SouFun, which had just completed its purchase of AIG.
"I thought this would be a perfect adjunct, as this property has 97 guest rooms and various amenities on it," said Mr. Warshauer.
SouFon first toyed with the idea of buying the land through an established non-profit. The company ultimately started the Research Center on Natural Conservation as its own non-profit.
"It's the first time we've seen a foreign buyer – an Asian buyer – buying eased land, protected land," said Kim Elliman, President and CEO of Open Space.
Arden House's new owners intend to use the space as a conference center, said Mr. Warshauer.
The house was originally built by railroad magnate E.H. Harriman in 1909. It was listed on the National Register of Historic Places in 1966.