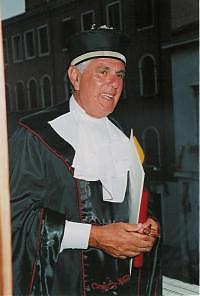 Giulio Malgara, a controversial choice for the president of the Venice Biennale who was appointed in October to replace Paolo Baratta, has withdrawn his candidature. The Italian minister of culture made the announcement yesterday and The Art Newspaper reported it today.
A recent petition to bring back Mr. Baratta collected 3,800 signatures. Mr. Malgara has been characterized as a "foodstuffs importer who has shown little interest in the cultural sector." He was supposed to have taken over on January 1, 2012.
Unfortunately for Mr. Malgara, his biggest supporter was prime minister Silvio Berlusconi, who offered his resignation to Italy's parliament this week because of the European debt crisis.
"In a delicate political situation I thought it was inopportune to continue with this nomination," Mr. Malgara told Italian news agency ANSA. "I think it's the right decision. I didn't want to add a problem to the many problems we already have."
There is no word yet if Mr. Baratta will remain president of the Biennale or if another replacement will be chosen.