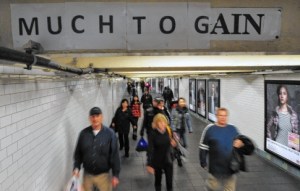 Power pessimists that we are (though we prefer "realists"), we're big fans of the morose poem in the tunnel connecting Port Authority to the Times Square subway station. It's discrete, so if you're one of those "hopeful" people, you don't have to look. In its entirety, the poem, written by Norman Colp, reads:
"Overslept, so tired, if late, get fired. Why bother? Why the pain? Just go home, do it again."
The poem was originally supposed to be up for one year, but (appropriately!) it just kind of got left there. Why bother, indeed. It remains a charmingly depressing piece of public art.
Now two smiling college students with their whole lives ahead of them have gone and ruined everybody's fun.
Explaining himself to the Daily News, Josh Botwinick, one of the happy vandals said: "Every time I passed it, I thought, 'Wow, that's a really depressing poem to have in the heart of New York City.' I took the same poem and just made it more optimistic."
Mr. Botwinick, along with Margot Reinstein, changed "Overslept" to "Overexcited" and "So Tired" to "Energized." "Why the pain" is now "Much to gain."
Colp's widow, Marsha Stern-Colp, who sounds like a pretty awesome lady, had this to say to the Daily News:  "Why be optimistic in these times? Be realistic—life sucks. You get through it the best you can."
And really, who could possibly be optimistic in a dank tunnel connecting Port Authority to Times Square? There's a real end-of-days vibe down there.
MTA officials say the work will be "quickly restored," hopefully crushing a few dreams of overenthusiastic optimists everywhere.