Last Friday David Schechtman of Eastern Consolidated listed 57-63 Greene Street. In fact, the listing went public around mid-day. By yesterday morning, however, he'd received more than 260 calls from prospective buyers all across the city for the Soho retail condo.
He will offer the 13,721-square-foot condominium for $19 million with his Eastern Consolidated colleagues Peter Hauspurg, Lipa Lieberman, Marion Jones and Gary Meese, he said yesterday.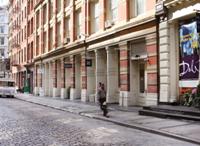 "Greene Street is one of the most undervalued retail destinations on planet earth," said Mr. Schechtman. He laughed. "Ok, it's actually one of the most undervalued north-south thoroughfares in the city."
There are a lot of factors contributing to the neighborhood's strength, Mr. Schechtman said. He pointed to the recent sale of 60 Greene Street, with its vacant storefront, and noted that 70 Greene Street is in hard contract. The nearby Apple store, meanwhile, has helped propel rents in the area, but he also cites the purchase last month of 334 Canal Street by Vornado Realty, among signs of the increasing demand in the neighborhood.
"The rents in the neighborhood are really $150 to $170," he said, sounding as though he barely believes it himself. The space is being sold by Aion Partners, a New York real estate investment firm.
In fact, buyers are sending unsolicited messengers to his office in a bid to pick up the prospectus, for a listing of his on Mercer Street—just north of Canal Street—because, he claims, the information isn't being sent out quickly enough to satiate them.
Pricing for 57-63 Greene Street is pretty firm, said Mr. Schechtman. The 100 percent occupied condo is rented to Bang & Olufsen, Cyrus Company and Raul Carrasco.–Guelda Voien