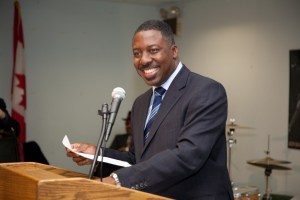 Teamsters president Greg Floyd held his weekly radio show down at Zuccotti Park yesterday and among his guests was public advocate Bill de Blasio.
Both Mr. de Blasio and Mr. Floyd are exploring runs for mayor in 2013, however the conservation was pretty cordial, as both defended the demonstrators right to protest.
"I deeply respect what folks here are doing and we have to protect their right to do it," Mr. de Blasio said, a statement that Mr. Floyd agreed with.
The two traveled to Israel recently, and witnessed the protests engulfing the nation there.
"I think that protest had a profound impact, and I think this protest is having an even bigger impact," Mr. de Blasio said.
Mr. Floyd joked that the two of them carried the protest with them when they traveled home.
Take a look:
HIGHLIGHT – SEGMENT WITH NYC PUBLIC ADVOCATE DE BLASIO from APL-AndersonProductionsLtd NYC on Vimeo.