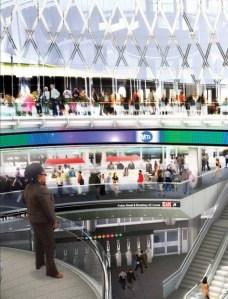 We always kind of knew this intuitively, but The Architect's Newspaper did a really nice job of putting World Trade Center retail into perspective.
After the MTA makes their firm selection, three major shopping centers will be connected via underground transit hubs and pedestrian passageways. The Westfield Group is in the midst of planning 365,000 square feet of World Trade Center (WTC) retail, and Brookfield is revamping 200,000 square feet at the World Financial Center. On completion, commuters will be able to shop and eat indoors all the way from Broadway to the Hudson River. A grand total of 635,000 square feet does not include 90,000 planned for the pending Two World Trade.
That's about half the size of the Chrysler Building, or about 25 percent larger than the Time Warner Center.
Maybe this is the real reason people have not been showing up to the new 9/11 Memorial—Century 21 can no longer sate their shopping desires. Wallets speak louder than words.