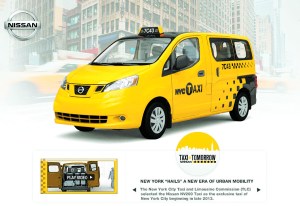 When NYC's 'Taxi of Tomorrow' – a Nissan NV200 – was first unveiled to the public last month, one of the glaring omissions was the lack of wheelchair access. Not surprisingly this prompted several disability rights groups to bring a lawsuit against the city, stating that the design violated the Americans With Disabilities Act (ADA). Slightly more surprising was the U.S. Attorneys office come out in supporting of them.
DNAinfo reported on how the whole argument took a curious turn yesterday in the hearing at Manhattan Federal Court. Lawyers representing the city revealed their somewhat extraordinary argument, that the city has no obligation to make any taxi cab in New York accessible to wheelchair users.
Seeking clarity on this issue Judge George B. Daniels asked Robin Binder to confirm her stance, that if she believed "it would be perfectly legal if there was not a single accessible taxi cab in New York City?" before adding, "You understand how extreme that sounds?" To the wonder of the Court Room Ms. Binder responded, "We don't believe we have the obligation".
The city's belief is that the TLC's role is limited to dealing with regulating taxi operators and not with passengers. Sid Wolinsky, representing the plaintiffs, stated that it was "quite a stupid decision, from a public policy point of view".
Currently there are just 232 wheelchair accessible cabs, in the city and with the mandatory move to the 'Taxi of Tomorrow" for cabs acquired after 2013, that number would potentially become zero. "Taxi of Tomorrow" contract with Nissan is for 10 years.
At the launch last month Joe Castelli, Vice President of Commercial Vehicles and Fleet for Nissan, told The Observer "This vehicle is ready for a wheelchair accessible up-fit… So, we can make this vehicle that way, but it will come with a cost and it will really be up to the city if that's something they want to do."
Although the city is working on a new system where the handicapped can call for special cabs, the Attorney's office are adamant that ADA should not be violated "for an indeterminate amount of time." Even if Mayor Bloomberg sees it differently, in an interview with WOR radio last month he brazenly said "You just can't take a wheelchair out into the street and try and hail a cab. It is dangerous and a lot of drivers just ignore them." He must think he's some sort of tough-talkin' New Yorker.
Judge Daniels is expected to make a ruling before Christmas, and the handicapped are hoping she won't be their grinch.
sduffy@observer.com