On the front page of
The New York Times
on November 11th, 1911: "Today is 11-11-11" with the subhead "Date Can't Be Written in This Way Again For a Century."
Another section reads: "As none of us is likely to be living in the year 111111, it would be well for those who delight in curious trifles to take their fill of enjoyment out of this method of dating to-day, 11-11-11."
The last time anyone saw 11/11/11 was way back in 1911, when early 20th century Americans celebrated with "The Great Blue Norther," a record-breaking cold snap that had temperatures dropping over 80 degrees all across the Midwest and causing a cyclone in Indiana.
On November 11th, 1811, Indiana Lieutenant William Henry Harrison had just finished decimating a confederacy of Native American tribes and laying waste to Prophetstown. (A lot of bad things happen in Indiana on 11/11/11.) The incident may have inadvertently caused the War of 1812. Despite starting a war and burning one of his own towns, Lieutenant Harrison would go on to be governor of Indiana on his way to becoming America's 9th president.
"Never was there a more sickly or fatall season than this for the small Pox, Pestilential ffeavers, Pleurisies and fflux's have destroyed numbers here of all sorts, both Whites Blacks and Indians." -- Gideon Johnson, writing from Charleston, South Carolina
Shakespeare is totally thrilled, but also kind of nervous, you know?
Their official motto "Johannes est nomen ejus" translates approximately into "John is its name" or "Juan is its name." Take your pic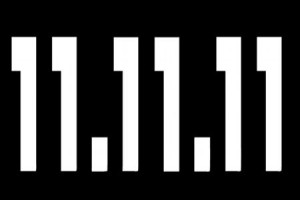 If you hadn't realized it yet, today is November 11th, 2011, a date the aligns all six of its calender numbers (excluding the millennium and century). Since we would like to appease whatever crazy cult out there believes the world is going to end today, we look to see what past centuries have done to memorialize this special occasion.