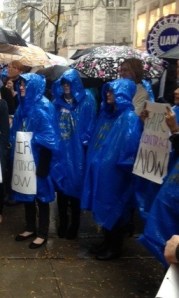 The scene at a union rally today in front of book publisher HarperCollins was sodden but cheerful, as HarperCollins employees donned blue ponchos with the gold UAW logo and gathered to protest stalled contract negotiations with their employer. Carrying signs that read "Thousands of Children's Books Can't Be Wrong: Learn to Share" and "What Stinks Worse, Dirty Diapers or Reducing Maternity Leave?" HarperCollins employees expressed love for their jobs but dismay at the prospect of no more guaranteed raises, reduced seniority protections, restrictions on vacation time, higher health care costs and shortened maternity leave. These concerns have resulted in a standoff between HarperCollins's management and UAW Local 2110 that is now almost a year old.
HarperCollins is owned by Rupert Murdoch's News Corporation ("one of the largest media corporations on Earth" was a frequent qualifier) and Rupe served as a useful villain for the assembled employees and their allies. "If HarperCollins were not a profitable business, News Corp. would not have purchased them 20 years ago and they would not continue as our parent company to this day," said Dale Rohrbaugh, a production editor who has worked on books such as the mega-bestselling Pinheads and Patriots by conservative pundit Bill O'Reilly. As she addressed the crowd, a passing delivery truck honked in solidarity.
"They seem to think that because we're in an industry staffed by passionate people who are invested in our work that we can eke a living off of our emotional satisfaction and not share in the profits that we workers help create and that so benefit the executives and stockholders invested in our company," she said.
Such was the frustration of employees that they even brought up the competition. "We're smaller than Random House and we have more bestsellers," said Jessica Berg, who works as a senior production editor in the children's division. "But our starting salaries trail thousands of dollars behind salaries at Random House." HarperCollins employees also do not receive the week off between Christmas and New Year's, a traditional industry holiday when printers go dark.
"I'm going to come right out and say it: I love HarperCollins," said Doug Johnson, an assistant production editor in the adult trade editorial department. "I want to see HarperCollins succeed," he said, "but I don't want that success to come at the expense of all of us."
The employees were joined by state senator Liz Krueger, state assembly member Dick Gottfried, UAW regional director Julie Kushner and representatives from the offices of City Comptroller John C. Liu and Council Speaker Christine Quinn.
Erin Crum, a spokesperson with HarperCollins, had no comment on the rally. Last week she said, "We are committed to bargaining in good faith, and trying to reach a fair agreement with the union."
The rally concluded with a pizza lunch.