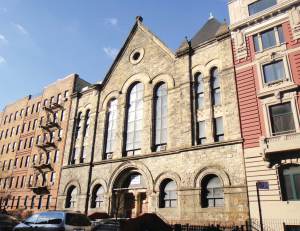 Subversive sculptor Ugo Rondinone is best known in New York for the blasphemous message he scrawled across the New Museum when it opened three years ago. "HELL, YES!" the neon rainbow screamed over the Bowery. Now, Mr. Rondinone is taking a more reverent place on another New York thoroughfare. He has just bought a defunct church on Fifth Avenue in Harlem.
According to the brokers who sold 2050 Fifth Avenue, Mr. Roninone plans to transform the church into some sort of community cultural space. "It was a very busy listing, Louis probably showed it to 80 different groups," Alan Miller of Eastern Consolidated told The Observer. Louis would be Louis Ricci, the Eastern director in charge of the deal. "When it finally sold," Mr. Miller continued, "the neighbors were very happy to know it would be something for the community." (Mr. Rondinone was traveling this afternoon and could not immediately be reached for comment.)
The 48-year-old Swiss-born artist works in all manner of media, and in addition to his candy-colored syllogism signs, he is well-known for a series of humanoid sculptures reminiscent of Dr. Seuss or Tim Burton. Mr. Rondinone paid $2.775 million for the former church, according to city records, in a deal that appears to have been all-cash.
Mr. Miller said there are plans for a complete restoration of the 15,500-square-foot building, which was also looked out by other churches, synagogues, and a handful of commercial interests. Built in 1880, the former Mt. Moriah Bapstist Church was the work of prominent church architect Henry Franklin Kilburn, who designed such notable parishes as the West-Park Presbyterian Church and St. James Episcopal Church Parish House in the Bronx.
The church was auction off in July 2008, after it was foreclosed upon, and the new owners paid $480,000 for it—turning a seven-figure profit as head turning as any Sotheby's auction. There had been concerns from the neighbors that the property might be redeveloped as a residential building. Plans existed for a six-story condo since 2006, but not it appears the space will be put to a more creative purpose than more cut-rate Harlem housing.
The property came on the market in February, and even with all the interest it had gotten, Mr. Rondinone was the first person to put in an offer. The artist, who lives in Greenwich Village, was not working with a broker, according to Mr. Miller. He simply happened by one day, saw the for-sale sign, and called Mr. Ricci up to inquire about buying it. "It was one of the easiest deals we've had in a while, it took just three weeks," Mr. Miller said.
mchaban@observer.com