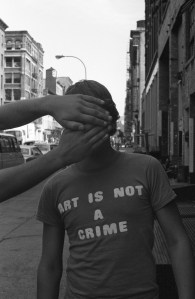 If you've never seen Style Wars, the brilliant 1983 documentary about the rise of hip-hop in New York and its connections to the graffiti art and breakdancing movements of the early '80s, you should probably stop what you're doing and go watch it right now. It's 69 minutes, edited down from about 30 hours of 16 mm film shot between 1981 and 1982.
Here's the bad news. There are hours of outtakes that risk disappearing forever: the original footage is damaged and fading and in desperate need of being restored.
According to a Kickstarter titled STYLE WARS…the Outtakes, started by Henry Chalfant, who co-produced the film with director Tony Silver, $28,000 needs to be raised by December 7 to save the unseen footage. The donation total so far is $6,639. Start donating!
Posted on the Kickstarter page are several available outtakes that have been floating around Youtube. Here's one featuring Rock Steady Crew, talking to the filmmakers in the Tony Shafrazi Gallery in SoHo.