If the lingering after effects of the recession and Manhattan's already arduous construction environment weren't challenging enough to builders in the city, the Department of Transportation's annual holiday construction embargo  is about take effect.
Starting tomorrow and in effect through January 2, 2012, the rules prohibit construction projects from blocking streets and walkways in various areas of the city, including 30th to 60th Streets river to river in midtown.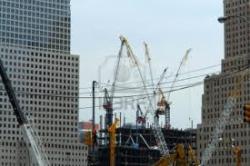 The embargo has been in effect for years and is implemented to help relieve congestion in areas during one of the busiest times of the year, when the city is hoping its main arteries will already be snarled with shoppers and visitors who pour money into the economy.
The embargo prevents construction or delivery vehicles from double parking or taking up areas of the street and also prevents sites from doing work that will block off portions of the sidewalk. A full description of the geographic boundaries of the embargo are available on the DOT's website at:
http://home2.nyc.gov/html/dot/downloads/pdf/2011_holidayemb.pdf.
Construction projects can receive waivers through the DOT that allow work to be exempted from the embargo's prohibitions. Some people familiar with the rules though say these exemptions are difficult to secure.
"It's hard to get a variance on the embargo, the city wants what it wants, they don't give many variances John Cavanagh, a construction expert who operates the construction management firm Cavanagh/Stewart.
"Everyone knows about it, you can't bring deliveries or do certain work that takes up room in the street. It's just another among the many rules and regulations in the city. You plan for these things and try to schedule around it."
The embargo will not impact work at the World Trade Center site, one of the city's largest construction projects, said Steve Coleman, a spokesman for the Port Authority, which own the site and is rebuilding it.