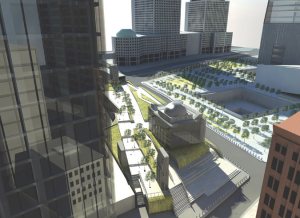 It was only a year ago that the St. Nicholas Greek Orthodox Church beside the World Trade Center looked doomed, at least to a side street if not all together. But Andrew Cuomo, in one of his first direct acts at the Port Authority, brokered a deal to put the church back in its pride-of-place spot across from the 9/11 Memorial, as George Pataki promised a decade ago.
The Architect's Newspaper looks into the new arrangement and turns up some new details about the plans for the church, as well as some new renderings that make a compelling case for the church.
Throughout the planning and the lawsuit Koutsomitis said his architecture office acted as a clearinghouse for all aspects of the negotiations. "It's very rare, but it's a special relationship with the client group," explained Koutsomitis of the combination design, legal, and financial team.
Currently there is no final design, the architect said, but it will be clearly identified as an Eastern Orthodox church. While the old St. Nicholas contrasted with Yamasaki's twin towers, the new church will play off the new buildings, the architect said, describing the new structure as a transparent "cube that's floating on air." If the current schedule holds, the church could open its doors by 2014.
O.K., so, even if that is not what the project is going to look like, compare that rendering to the earlier one, and then try and tell us that doesn't make a considerable difference. Just ask Daniel Libeskind—soaring words and pretty pictures make all the difference in the world.