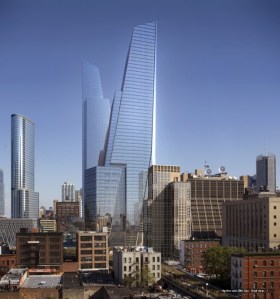 Despite the anticipation surrounding Hudson Yards—a new neighborhood cut from whole cloth, full of open space and affordable housing and not a few shiny new offices, and the jobs that come with it all—the truth was, it wasn't much to look at.  Even the decade-old and not-much-to-look-at-unless-you're-in-on-the-architectural-joke Time Warner Center was flashy by compare. Then, Related's Steve Ross decided he could do better. It is rare for a developer to have such a change of heart, but it appears the city is better off for it.
According to The Journal, not long after Related revealed new renderings for the site, head honcho Steve Ross decided he wanted something more, to attract tenants looking for a bit of panache (but not too much!), and maybe even make a nicer contribution to the skyline.
The design wasn't terrible. But it wasn't the sort of arresting, statement-making architecture that one would expect a next-big-thing type of project. KPF's early designs for the buildings were like Buckingham Palace bobbies: standing straight and erect, faces constant, but not saying much of anything at all.

The new plan for phase one, recently unveiled, describes a much different composition. The 30-story middle building is gone. New renderings show two jagged towers—the more northerly one 67 stories and sloping diagonally toward the city, the other, 51 stories and angled towards the Hudson—that slash through the skyline. Connecting the two buildings will be eight stories of retail and trading-floor space.
For The Journal's Robbie Whelan, even if the buildings alone are not remarkable, together they create a ballet on the skyline.
The mirror-image slopes of the two buildings, which would regard one another differently from nearly every angle of viewing, give viewers the sensation of two dancers in the midst of a paso doble. The southern building, which would house Coach, is, sensibly, the female of the pair —slightly shorter, with the atrium manifested as a slit in the dancer's ball gown, giving a glimpse of a flash of leg underneath.
Vavavoom! The Observer hasn't been this attracted to a new project the Lipstick Building rose on Third Avenue 25 years ago.