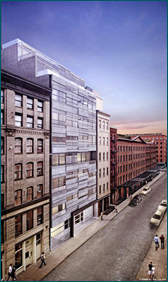 Although Lady Gaga may not be moving into Tribeca's hot new development at 33 Vestry Street (called, with appropriate Tribeca flair V33), the building has a new superstar resident. Well, a superstar if you're savvy about financial virtuosos, that is. Greg Agran, the newly appointed head of commodities trading at Goldman Sachs, appears to be the newest owner at the hot downtown condo.
While Mr. Agran purchased through an LLC (Morning Dew LLC, perhaps he fancies himself a poet?), the deed was signed in his own name. The signature matches a deed Mr. Agran signed with his wife for their $13 million place precisely six blocks north at 13 Harrison Street. The couple purchased the property together in 2007, and threw at least one star studded gala in the 8,442-square-foot apartment.
While more humble than the old digs, Mr. Agran's new condo is impressive nonetheless. According to floor plans, four-bedroom, three-bath place features heated floors, a terrace, a 156-square-foot master bath, and comes with a private parking space.
According to Town Residential broker Wendy Maitland, the building is the latest and greatest new development in the downtown luxury market. "It's a 52-foot-wide lot," she explained. "That's much grander than your typical 25-foot wide loft." Ms. Maitland sang the praises of the kinked project, designed by starchitect-in-the-making Winka Dubbeldam. "This will never be done again," she said.
While eager to share her thoughts on the development, Ms. Maitland was mum on Mr. Agran. "He's a really nice guy," was all she would say, without venturing more.
Originally listed for $6.2 million, Mr. Agran hardly showed his financial aptitude in the deal, ultimately paying $6.16 million for the full-floor spread.
eknutsen@observer.com