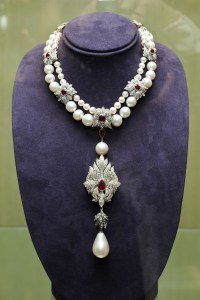 Every now and then, an invitation comes in that makes us so happy to be on the party circuit; and the chance to view Elizabeth Taylor's jewelry collection at a Dom Pérignon sponsored lunch was one such invite. Diamonds and Champagne, what could be a better way to spend a chilly fall afternoon?
And this was ice like you've never seen it before. Elizabeth Taylor collected jewelry the way that some people might collect stamps or maybe pens. She was a diverse collector—never sticking to one period or jewelry house. While, as a general rule her mantra seemed to be "bigger is better," there were a number of surprisingly interesting pieces that showed a more discerning level of taste than one might be inclined to give Ole Violet eyes.
Jennifer Hall, a senior vice president, said of the works, "Even if you took Elizabeth Taylor's name off it, this would still be the most important jewelry collection ever to be sold by Christie's."
Groups of women drifted in, scarcely able to contain their excitement as they headed to the glass cabinets holding the cornucopia of twinkling gems. Ritual air kissing was all but forgotten as the ladies paused in front of their favorite pieces.
Sadly, due to express orders from Elizabeth Taylor's estate, no one was allowed to touch the hoard but judging from the oohing-and­-aahing heard around the room everyone was pleased just to have a first look. (The collection officially goes under the hammer in mid-December.) Olivia Chantecaille, Marina Rust, Jamie Tisch, MacDowell Win and Sophia Marinakis all rushed to their preferred pieces.
"My favorite is the Opera Tickets," said the statuesque Lydia Fenet, director of strategic partnerships at Christie's, referring to a gold and ivory necklace made of turn-of-the-century theater tickets. The necklace was left to Taylor by costume designer Edith Head. "It's incredibly wearable and yet completely unique and you would have something unique in history."
As the ladies sat down to a lunch of truffle risotto and sipped their glass of 1996 Dom Pérignon Oenothèque, Rahul Kadakia, head of jewelry at Christie's, dropped a few more gems (sorry–couldn't resist) about the collection.
One of the best stories has to be the tale of La Peregrina, a natural pearl found on the Gulf of Panama in 1519, which even back in the day was recognized as so important that the slave who found it was instantly granted his freedom. Richard Burton famously bought the pearl for the then tremendous sum of $37,000 in 1969 for Elizabeth on their wedding day. La Peregrina has graced the neck of no fewer than eight Spanish kings and remained unscathed even after famously being masticated by one of Taylor's puppies.
Then there is the Taj Mahal necklace, a carved diamond set in a ruby and gold chain, famously given by Emperor Jahangir to his son Shah Jahan, who built the Taj Mahal. Mr. Burton gave Ms. Taylor the exotic necklace for her 40th birthday.
And of course, there was the Elizabeth Taylor diamond that weighs in at a mere 33.19 carats, originally sold for the price of a Park Avenue apartment, now the price tag is a mere $3 million. Still,  Taylor's taste is not for everyone. Jennifer Wright, specialist in Old Master drawings, peering at the stone the size of a watch face, said, "Well, some guy is going to get off the hook because 33 carats is just too big for my little hands."
Ms. Chantecaille, of the eponymous jewelry company, who has been busily designing new evening eyeshadow colors for the festive season, had an even stronger reaction to the stone's size, "Wow, to sleep on that would be like the princess and the pea—you'd get a bruise."
As lunch drew to a close with delectable Dom Pérignon Rosé ice cream and one last sneaky glass of the Dom Pérignon Rosé 2000, we swayed out into the street in a golden haze wishing that our life was half as sparkling as Elizabeth Taylor's.
dprince@observer.com