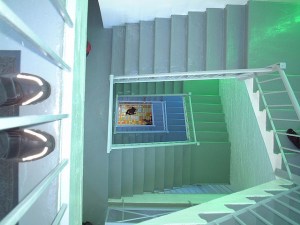 Today, the Independent art fair announced the galleries that will participate in its 2012 edition, a gang of about 40 participants.  (Hat tip to Artforum for being the first to publish the list.) The fair, which is entering its third year, will take place on March 8-11 in the former Dia:Chelsea building, at 548 West 22nd Street.
Some of Independent's participants have also signed on for the Frieze New York fair, which arrives in May, like Gavin Brown, Elizabeth Dee, Hotel, 47 Canal and Stuart Shave/Modern Art.
The last remaining major New York art fair that has yet to publish its exhibitor list is the Armory, which has said it will do so in January. As we reported earlier today, it is rumored to include Victoria Miro, Marianne Boesky, Sean Kelly and Lisson Gallery, among others.
Independent's full list is as follows:
47 Canal, New York
The Approach, London
Balice Hertling & Lewis, New York
Bortolami Gallery, New York
Broadway 1602, New York
Gavin Brown's enterprise, New York
Bureau, New York
Campoli Presti, London/Paris
China Art Objects, Los Angeles
Creative Growth Art Center, Oakland
Elizabeth Dee, New York
Feature, Inc., New York
Freymond Guth Ltd., Zurich
gb agency, Paris
Jack Hanley Gallery, New York
Herald St, London
Hotel, London
David Kordansky Gallery, Los Angeles
Andrew Kreps Gallery, New York
Labor, Mexico City
Wilfried Lentz, Rotterdam
Gio Marconi, Milan
McCaffrey Fine Art, New York
MD 72, Berlin
Meyer Riegger, Berlin/Karlsruhe
The Modern Institute, Glasgow
Murray Guy, New York
Neue Alte Brücke, Frankfurt
Maureen Paley, London
RaebervonStenglin, Zurich
Stuart Shave/Modern Art, London
Supportico Lopez, Berlin
Richard Telles Fine Art, Los Angeles
The Third Line, Dubai
VW (VeneKlasen/Werner), Berlin
Thea Westreich/Ethan Wagner Publications, New York
& Three Star Books, Paris
White Columns, New York
Galerie Jocelyn Wolff, Paris
Alex Zachary, New York
Galerie Susanne Zander, Cologne