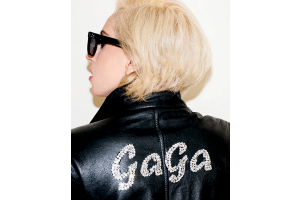 The Brazilian-born artist Eli Sudbrack was standing on 60th Street this morning, next to Lady Gaga's mouth. A taxi zoomed by, painted green with purple and orange stars, and the artist chased it with a camera. When the thing stopped, he snapped a picture. Then Cary Leitzes, of Leitzes & Co., wrangled The Observer and Mr. Sudbrack. It was time to go in. But we wouldn't be going through Gaga's mouth. "We'll go a different way," she said.
This wasn't the banal surrealism of a dream. We were headed for Gaga's Workshop, a holiday display in Barneys that opens tonight at a minute before midnight, presumably to hordes of Gaga fans. For the project, Gaga collaborated with Mr. Sudbrack, who is the head of an artist collective called assume vivid astro focus, or avaf (no caps, thanks very much). He made the Gaga mouth entrance to the store, in cartoon colors; he had the cabs painted. Ms. Leitzes connected him with the project. Gaga's Workshop was quiet this morning, as some members of the press were given a tour.
Downstairs, we passed a neon piece by Mr. Sudbrack, hanging above various designer bags, with the logo for the project, the one that will also appear on bags in which customers will carry out their Gaga's Workshop products: a neon sign showing Lady Gaga in a red bodysuit and a blue wig, with long yellow fingernails. We asked Ms. Leitzes what made Mr. Sudbrack particularly well-suited to the Gaga's Workshop project. "His work translates into so many mediums," she said. "Whether it's a video, whether it's a neon, whether it's signage—you'll see the sculptures upstairs."
"It's very, very heavy," Ms. Leitzes said of the sign.
What's going on in the image, we asked Mr. Sudbrack?
"She's a contortionist," he said. "Look at her legs! They're triple the size of a normal person's legs." Indeed, her legs, swathed, like the rest of her body, in that bright red body suit, snaked around the composition, each of them trailing off into a typically vertiginous Gaga high heel a la Alexander McQueen.
From her hands jutted long, curving yellow lines. The fingernails were exaggerated to comical proportions.
We were bound for the fifth floor of the store, and the Workshop proper.
But first. Outside were a set of elevators: a grid of portraits of Ms. Gaga by children at an elementary school in Harlem. They are on sale, to benefit the school. Below this display is a television monitor on which is playing a video of Ms. Gaga on a loop. She wears dark sunglasses, as per usual, as well as a rather plain black tank top. "Happy Holidays, Barneys," she says, then explains that 25 percent of the proceeds from sales of products at Gaga's Workshop upstairs go to her new foundation Born This Way.
Then, up we went. The first thing you see in Gaga's Workshop is a giant Lady Gaga luxuriating in a sea of black sequins and small mirror sculptures, a sculpture by Mr. Sudbrack and avaf. She wears a giant blue wig. She has giant yellow fingernails that are lit up with yellow lights. Her body is elongated. It's the same image as in that neon downstairs, but exploded to monumental proportions. The top of her wig almost grazes the ceiling. Her red bodysuit is covered with gold studs.
There are other displays by avaf, and plenty of things to buy.
Displays: Gaga as a giant spider (shades of Louise Bourgeois, and there's now a 40-foot-tall inflatable version of this in front of the Flatiron Building, and other monumental inflatable Gaga-related sculptures around town, like a giant purple hand at Houston and Broadway, and a giant Gaga head, with blond hair and a green face, at Columbus Circle); Gaga's mouth open and surrounded by lights as a funhouse-style entrance to the candy shop; a train with Gaga's lips emblazoned on it, and Gaga lollipops sticking out.
Products:  There were cookies depicting Gaga in sunglasses; Gaga's shoes redone as Christmas-style stockings; Gaga's hand elongated, with fingernails in various electric hues, in which products rested; Gaga hair bows made out of fake hair dyed various colors; a small plastic toy that, when you press a lever, makes a small plastic Gaga emerge from a plastic egg; Gaga lollipops with pictures of Gaga on them; stuffed animals in the vague image of Gaga, with empty soda cans entangled in their hair; leather jackets ranging from adult to toddler size, with the Gaga's Workshop logo emblazoned within (the toddler size, mercifully, lacks the spikes on the shoulders); Gaga-style bracelets with spikes; specially designed holographic nail polish; 12 different sets of fake fingernails that look like armor; specially made editions of books like Charlie and the Chocolate Factory and James and the Giant Peach; journals and address books with shiny gold covers and avaf's splashy patterns inside the cover.
There's a soundtrack, a mix planned out by Lady Gaga and her creative director, that alternates between Gaga hits and holiday classics. The floor of the Workshop is black. The whole thing has a Tim Burton-ish aspect, circa Beetlejeuce.
And there is a pervasive, sickeningly sweet smell. What's that smell? We asked Mr. Sudbrack.
"There is a candy shop," he said.
The smell turned out to be a room spray of some kind, a Barney's rep confirmed. The smell was of something you'd eat too much of and then regret it.
Barneys creative director Dennis Freedman appeared. "Our dream was to work with Lady Gaga for a number of reasons," he said. "Number one, she's a New Yorker. Number two, her message of bravery and diversity, and it was always a component for us that a significant part of the proceeds would go to charity. We were fortunate that the foundation was set up November 1 by her mother and her, so this is certainly one of the first huge fundraisers for that. She said yes, we made the offer of what we wanted to do, she was on board. At that point, I approached Eli Sudbrack, an artist who does a lot of installation work on a large scale using a variety of materials, sculpture, neon, inflatables." (Ms. Leitzes connected them; she's previously put avaf together with Le Sportsac for a bag design. It's not the first time Gaga has collaborated with a visual artist—Francesco Vezzoli and Terence Koh have also been collaborators.) "I felt that if anyone can translate anything on the scale and creativity of Gaga it would be him. The exciting thing is that, for us, it was a chance to put together a new team and a new team for her as well, and hopefully out of that would come something unique. Nicola Formichetti—"
No sooner had he mentioned the name of Gaga's creative director than the man appeared, as though on cue, and gave Mr. Freedman a hug. Mr. Formichetti's hair was styled to come to a slick point in the front. He was wearing a sleek all-black outfit, and lots of large rings. The rings looked heavy.