The investment banking firm Stifel Nicolaus has signed a one-year renewal for its 10,000 square foot office at 105 East 52nd Street.
The firm occupies a portion of the 300,000-square-foot building's sixth floor, a roughly 14,000-square-foot space. Rent for the deal was in the $50s per square foot.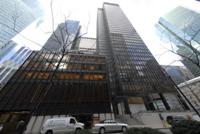 Stifel was represented by Cushman & Wakefield. Based out of St. Louis, Missouri, the investment bank uses an executive out of Cushman's Chicago office, Jay Stuart, to negotiate its transactions in the city. Mr. Stuart, who works in Cushman's downtown Chicago location, didn't return calls seeking comment on the lease.
A brokerage team from the real estate services company Jones Lang LaSalle, led by company executives Scott Panzer, Howard Hersch and Jeff Fischer represents 105 East 52nd Street's landlord, a partnership led by the investor David Tawfik.
With about 50,000 square feet of space rolling in the building in the coming months, Mr. Tawfik hired the JLL team about three months ago in an effort to begin marketing the openings and hopefully head off the vacancy. With the help of a capital improvement plan valued at $2 million, The JLL brokers have made progress.
In addition to the short-term renewal on six, Mr. Hersch said the team is close to signing a deal for 4,000 square feet on the building's 22nd floor, a roughly 8,000-square-foot space. The floors are sized for boutique tenants, Mr. Hersch said, and many of the vacancies will be outfitted with pre-built office installations, which allow tenants to avoid the time and expense of having to construct offices in the space themselves.
Chief among the improvements that Mr. Tawfik will make in the property is a new lobby that is in the process of being designed, Mr. Hersch said.
Dan Geiger, Staff Writer, is reachable at Dgeiger@Observer.com