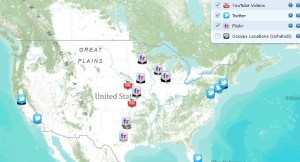 "Just because you're paranoid doesn't mean that they aren't out to get you." Is that how the saying goes? We're pretty sure we read that on a t-shirt once, or maybe it was an episode of The X-Files. Regardless, the idiom seems to hold particularly true for tech-savvy Occupy Wall Street members, many of whom are extremely paranoid, and not necessarily wrong.

On October 15th, Gawker posted an article titled "Meet the Guy Who Snitched on Occupy Wall Street to the FBI and NYPD." It profiled security consultant Thomas Ryan, who claimed to have worked with Army surveillance and was feeding an OWS listserv called September17discuss directly to the police, the government, and giant corporations like NBC.
What Gawker seemed to have missed was that Mr. Ryan might not have been a lone gunman. We were alerted last night to a tip that Mr. Ryan actually works for a private investigation firm called Provide Security. His business partner, Dr. Kevin Schatzle, was imprisoned for 6-months for beating a man while on Secret Service detail during Al Gore's campaign in 1988. (Via Spytalk Blog)
Whether or not Mr. Schatzle, who claims to have "served as chairman of the Counter Terrorism Task Force – Infrastructure Advisory Group of the Morris County New Jersey Prosecutor's Office" after 9/11 (as well as having worked with the FBI and being a former NYPD officer) is actually involved with any of the OWS surveillance is still unclear.  (Dr. Schatzle has not responded to a media request from The New York Observer at the time of this writing. )
Meanwhile, rumors of the state's own counter terrorism unit being brought in to control Zuccotti Park runs rampant through the camp and Internet forums. Like many things involving OWS members, a lot of the distrust and paranoia surrounding the government soon starts to jumble together and sound like one long stream of crazy. (After all, you don't even need to be a tech guru to use a location-based information system like ESRI to find out where exactly the OWS tweets, photos, and videos are coming from. It's a matter of public information.)
Another fear from the OWS camp comes from the news from earlier this year that the U.S. military had awarded money to California tech company CentCom to create "sock puppet" Internet identities for trolling social media. This is part of what General Petraeus is calling an attempt at "countering extremist ideology and propaganda.' Though the United States Central Command has stated that it hasn't used Persona Management Software inside the U.S., it does little to quell the fears of cyber-protesters.

And as demonstrators found out early yesterday morning, it certainly doesn't mean that they aren't out to get you.