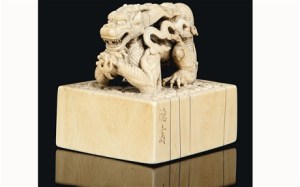 It seems that once a month someone new sounds off on how the Chinese art market is struggling. Recall, back in October, when Reuters claimed the market was lagging even though the evidence seemed to suggest otherwise (they had to face the wrath of Marion Maneker for that). In the Telegraph, Colin Gleadell has a short piece (or a long paragraph) on how the Chinese market is "losing steam" based on London's Asian art sales.
Strangely, he begins with a number of positive notes.
Christie's sold £28 million worth of Chinese antiquities (about $44.4 million). Bonhams sold a Chinese vase for £9 million ($14.28 million). Christie's, according to the Telegraph:
"Might claim the biggest surprise. In its South Kensington sale, a tiny ivory stamp with a carved lion handle, described as 19th or 20th century, had been bought by a British collector in Hong Kong in the 1940's, and was estimated at £3,000 [$4,759]. Imagine the owner's face when it sold for £646,000 [just over $1 million]."
His conclusion: "Overall, though, some steam has gone out of the Chinese market as many of the higher valued lots went unsold."
In other news, Artforum reports that the Shanghai city government has announced plans to construct 16 "major museums and galleries" in the city by 2015. One gallery, set to open in October of 2012 in the transformed China Pavilion space, is 23,000 square feet; it is called China Art Palace.