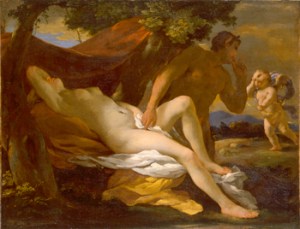 In a recent interview with the French online newsletter Le Quotidien de l'Art, the artist Jeff Koons confirmed that he has loaned pieces from his extensive collection of Old Master works to the Metropolitan Museum of Art.
The Q&A with Mr. Koons mainly concerns his affinity for the Old Masters, but when asked how he came to share his works with the museum—a fact that had not been confirmed before this interview, since both parties had refused comment—the artist answered without hesitation.
"The museum is close to where I live and I can see them frequently," he said. "I think that one should share these works with the public."
The theory that Mr. Koons has been loaning pieces from his collection to the Met was first put forth by the writer Laura Gilbert, who pointed to four pieces that appeared at the Met from a "private collection" and also on a site CollectionNY, which appears to be an unlabeled list of artworks that Mr. Koons owns. Ms. Gilbert based her theory on the fact that several works known to have been purchased by Mr. Koons appear on CollectionNY. An appearance at the Met would greatly increase the value of any piece exhibited there.
Le Quotidien de l'Art's interview with Mr. Koons references four pieces from his collection that happen to appear on that site — a Quentin Metsys, a Nicolas Poussin, a Nicholas Knupfer and a Jean-Honoré Fragonard.
Thanks to The Art Newspaper for pointing us to this interview, which was actually published on November 3, but hasn't seen much pick-up since then.