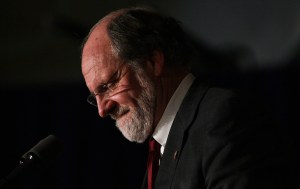 Like Bear Stearns' CEO Jimmy Cayne and former Lehman Brothers CEO Richard Fuld before him, former MF Global chief Jon Corzine has suffered that terrible indignity of having a novelty portrait painted in his likeness and lovingly placed on the street in the Financial District.
It's something of a shtick for artist Geoffrey Raymond, who painted those first two as well.
The price is must also be part of the joke. Mr. Raymond says he's selling the painting for $85,000. See a photo of the painting here.