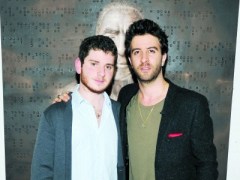 When Joseph Nahmad was in his teens his father told him to take up gambling. The 21-year-old member of one of the world's most prolific art-dealing families is soft-spoken, perspicacious and not the type you'd expect to have a past that includes high-stakes cards, but by age 16 he was hitting the poker tables of Monte Carlo.
"I started playing poker in New York City games," he said on Thursday, the night of his first-ever gallery opening, a pop-up exhibit called "Blind" that features works by the painter Roy Nachum. The family's art business was founded by his uncle Giuseppe, who is also known as Joe, some 50 years ago, but these days the family's patriarch is the younger Joe's father, David, who, as it happens, holds the 1996 Monte Carlo world championship title in backgammon.
"He thought that by gambling, even for relatively high stakes—not as high as business," Joe said, meaning art sales, "but high stakes—that I would learn a lot about life, about the real world. He encouraged it. My mom was completely against it but through it I really learned a lot of things—how people are, how people, when they are desperate and have nothing to lose, will fuck you over at all costs."
Joe's show represents a significant step in the family's evolution. In 2007, Christopher Burge, chief auctioneer at Christie's, told Forbes magazine that "the Nahmads have sold more works of art than anybody alive," but up to now they've had a reputation for selling Impressionist and modern works. Originally from Syria, then Lebanon and Monaco, the family stores its art in a 15,000-square-foot warehouse in Geneva, and while the Forbes story reported that it contained some 5,000 works, the exact figure is secret (though they own at least 200 oil paintings by Pablo Picasso). Their net worth is estimated at $3 billion.
The family has been a major presence in New York for several decades—Joe grew up here—and its members are extremely close. David and his elder son, Helly—Joe's 33-year-old brother—exchanged a one-pump handshake after purchasing a $5 million Alexander Calder at Phillips de Pury & Co. two weeks ago. (The following night, at Christie's, Helly was accompanied by family pal Leonardo di Caprio.) The Nachum show represents not just Joe's entrée to the art world, but the Nahmads' debut in the sexy, high-risk contemporary market. Joe hopes to stage pop-up shows for a year with plans to eventually find a permanent space, ideally in Chelsea.
Joe speaks in the measured, businesslike cadence of someone much older. His words come in paragraphs, complete with a topic sentence. When he runs out of things to say on a subject, he'll say that, and at the end of a conversation at a social event, he might kindly encourage you to "have fun" or to "go get a drink." His eyes are an intense blue-green and his face has a layer of soft scruff. He is short enough that models, and there were plenty of them at the Nachum opening on Thursday, have to lean down when they speak with him.
The opening, at a space near Mulberry and Spring, was thoroughly downtown, with the young and attractive people seeming to outnumber the serious collectors. Walking by the storefront in its previous iterations, you may have noticed it hosting a sample sale, and the crowd was not altogether different from that sort of clientele.
The paintings themselves featured spooky figures in simple colors with raised Braille surfaces on each painting that spell out poems. Visitors were offered blindfolds—red sashes—so that they could experience the paintings as a sightless person might, by touching them, though most opted to fashionably drape the sashes around their necks.
The back room featured a giant mirrored cube with Braille words written in bright light bulbs—not ideal for hiding, though someone said they'd seen David Blaine back there. Glenn O'Brien gushed about a scene he'd just shot for an upcoming movie, in which he plays a journalist who interviews Paz de la Huerta ("They really don't make them like her anymore"). Nicky Hilton, a longtime friend of the Nahmad brothers, was vague when asked what they liked to drink ("A beer"). Joe swam around on the margins of various groups, on the move if not totally engaged, and over the course of the evening, it seemed as though he had spent a significant amount of time with every last person at the party.
He ended up selling eight works at the opening, most of them for prices in the five figures. This took a bit of bargaining. "I took a portion out of my end on some of them," he told The Observer afterward, "just because it was my first show. I wanted to put these pieces out in collections. I gave some discounts—not on the artist's end, on my end—because I'm not trying to make a quick buck. I'm trying to build Roy's reputation. I'm trying to create a brand here."
Helly, who runs a gallery out of the Carlyle Hotel, spent most of the evening in a baseball cap, huddled in conversation with the model Miranda Kerr. David hugged the wall of the gallery when he was there.
The contemporary art world is not, in fact, entirely new to him. He counts himself as one of the first people to buy Andy Warhol and Roy Lichtenstein, but in recent years became more hesitant to continue buying them as their prices reached the astronomical prices of the Impressionist and modern market. ("You know how many artists are more expensive than Picasso now? Probably 1,000. It's shocking.") He reportedly scolded his London-based nephew—also named Helly, after David's father—for an early flirtation with Damien Hirst.
"People today are very insecure," David said. "They want to follow each other. If you tell them this wall is black," he gestured to the gallery's white wall, "everybody repeats, 'This wall is black.'"
"It's sad to see people owning something when they pronounce the name of the artist wrong," he said. "It's very sad. Look at Basquiat. Many people call him 'Basqua.' 'I bought a 'Basqua' for five million.'"
Trendiness aside, the main draw of the Impressionist and modern market, in contrast to the contemporary market, has always been its reliability. A Miro will always be a safe bet because the number of Miros available for purchase is ever dwindling. It's a bit of a Catch-22 as a long-term business model, since the value lies in the works' increasing rarity, and even a warehouse full of art empties, no matter how gradually.
"If you're going to deal in contemporary works and sell them at $10 million or $20 million, it's a kind of irresponsible because you are misleading your client," David added. "What if tomorrow this artist disappears? What are you going to tell your client? If he is rich you are going to give him back the money. If he is not very rich, you don't answer the phone."
Mr. Nachum would appear to be safe territory in that regard. According to the Artnet database, he has never sold a work at auction. He has had a successful side business designing restaurant interiors (he did Justin Timberlake's Southern Hospitality), and the "Blind" show is the culmination of four years of work. He met Joe through common friends.
"You know sometimes when people complete you?" Mr. Nachum said. "That's how I feel. He completes me.
"The minute that we met we knew that we were going to do the show together," he said.
"Joe is out on a limb," said the filmmaker, graffiti artist and downtown fixture Nemo Librizzi, who'd helped plan the exhibit. "Considering who his family is, he could have treaded water and become a millionaire or a zillionaire, right? And he decides, no, I want to venture out into the unknown."
Well, not that unknown. For his next show, Joe is wading into blockbuster territory with a Basquiat exhibit that will tie together the painter and his contemporaries with their art history forebears. It was discussed as a possible first show for Joe, though everyone agreed it would be better to do later. Mr. Librizzi's father was a major dealer as well—Mr. Librizzi introduced young dealers Vladimir Restoin Roitfeld and Andy Valmorbida to Richard Hambleton, one of his father's clients—and he and Joe seem close. At the opening Mr. Librizzi, who once had "Superintendent of Luminous Detail" printed on his business cards for a consulting job with the Hotel on Rivington, brought Joe into a conversation about the Basquiat exhibit. "We're going to have Basquiat, Picasso," he told the group, enlisting Joe's help in hyping the artists. "Franz Kline," they both said at the same time excitedly, as though the late Abstract Expressionist were an A-list celebrity. They high-fived.
The neighborhood's scrappier, younger galleries—which established the Lower East Side as an art destination a few years ago—have for a while had some misgivings about more established dealers making inroads there.
"You can think of Jeanne Greenberg, who comes from a collecting family and has Salon 94, a pretty respected program," said another downtown dealer, "but I do think a lot of gallerists are quite critical of people like her because the access that people like that have to both funds and material is—it's not an unfair advantage but it somehow negates a lot of the other criteria. The decision-making is kind of muddied by that."
"I think it's hard to have a good gallery and good shows regardless of how deep your pockets are," she added.
At the after-party at the Darby, Joe stood tensely at a column as people filled the booths.
"Woo!" said a gorgeous woman in a black dress and heels, passing him. She worked at the gallery. "I'm going to bed soon, I promise," she said.
"What time did we say for tomorrow?" he asked her. "Ten was it?" She nodded. With mock gravitas and his arms crossed, Joe smiled. "You can come in at 11."
"Yaaay wooo!" she responded.
The art critic David Greenberg, who'd written the catalogue essay for the show, stopped by to congratulate Joe.
"People were looking at the art!" Mr. Greenberg said. "Think about it—you've been going to art openings since you were in diapers. People looking at the art, that never happens. Normally they just look at all the other people. This was great!"
Joe nodded. "I feel like I won a very small battle in a very long war," he said. Then he told Mr. Greenberg to go have a good time.
editorial@observer.com