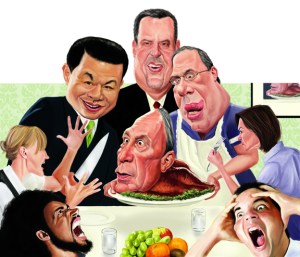 In the aftermath of Mayor Bloomberg's clearing of Zuccotti Park last week, as helmeted police were still pushing stragglers up Broadway and the first morning commuters appeared, a protester named Jake shouted a warning at the cadre of cops shoving protesters away from their erstwhile home.
"There were people smoking crack, people with puppies begging for money, we looked like shit," Jake yelled to the police. "Now what do we look like? Peaceful protesters getting our asses kicked. This is the best thing that could have happened. There are thousands of people watching us."
Jake's remarks proved prescient. In the eight days since the predawn NYPD raid, the Occupy movement has emerged with newfound political muscle and support of some of the city's biggest unions. Mayor Bloomberg took the park from the protesters, but he also solved many of the problems that consumed organizational energy at Zuccotti: food, shelter and keeping their community safe from the more volatile elements in the park. As long as occupiers made holding ground in the park their main objective, the movement appeared caught in an unending battle against police, winter weather and a steady string of homeless and mentally ill New Yorkers who showed up for the free food and shelter. Then came the dramatic raid, and the protest went from an eyesore to a political cause célèbre. Now, demonstrators are spreading their message at events all around the city, joined by a new-found army of politicians and union leaders eager to score political points and attach themselves to the movement.
Less than 12 hours after police swept through Zuccotti Park in a cloud of pepper spray and swinging batons, several of the likely candidates vying to replace Mayor Bloomberg in 2013 piled on the OWS bandwagon, blasting him for the show of force and his efforts to obstruct reporters from witnessing the eviction.
"Today's actions include reports of excessive force by the NYPD, and reports of infringement of the rights of the press. If these reports are true, these actions are unacceptable," said City Council Speaker Christine Quinn in a statement following Tuesday's raid.
"Zuccotti Park is not Tiananmen Square," said Manhattan Borough President Scott Stringer in a rival statement.
"The administration should have let the situation in Zuccotti Park play out. There were still opportunities to resolve outstanding issues, including finding an alternative site that would have proved less problematic," said Public Advocate Bill de Blasio.
Ms. Quinn also showed up on the steps of City Hall on Wednesday at noon for a press conference with Councilman Ydanis Rodriguez, who was arrested during the raid. Wading into even more dangerous territory (and marking an undeniable sea change with regard to post-9/11 deference to law enforcement), Ms. Quinn raised questions of police misconduct on Mr. Rodriguez's behalf.
"We need answers to these questions: Why was he pushed to the ground? Why was he held in a van for two hours when no one else was in that van with him? Why did he ask to see a supervisor and was never granted that right? Among other questions, those are troubling, troubling questions. Why was his attorney not given the ability to see him?" Ms. Quinn said, very troubled indeed.
But none of the potential mayoral candidates could match the rhetoric of Comptroller John Liu, who in addition to the developments at Zuccotti had the added inconvenience of seeing one of his fund-raisers arrested by the FBI on Wednesday afternoon.
"It is simply outrageous that City Hall felt it necessary to swoop in on Zuccotti Park under cover of the dark of night and to show up with such an incredible show of force somewhat similar to the shock and awe that was employed in Iraq," declaimed Mr. Liu. "It's 2011, not 1984, and yet, we hear more and more of this Orwellian doublespeak coming from City Hall. This has to end."