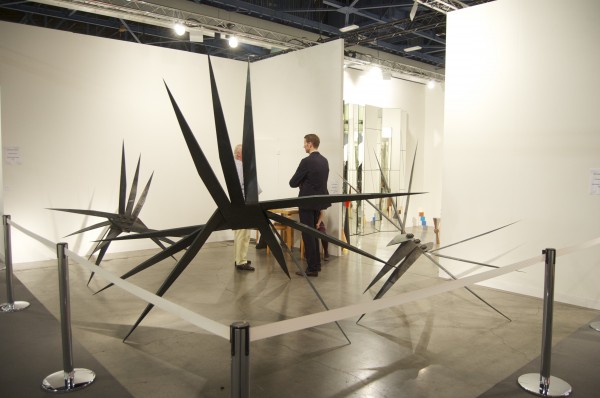 Some booths at Art Basel Miami beg you to wander inside. Michael Rosenfeld Gallery's corner space, for instance, has lush purple carpeting and a pedestal lined with small sculptures—a yellow polka-dotted Kusama, a tiny Joseph Cornell, a wild Alfred Jensen sculpture. It begs for a closer look. Who could resist?
Other galleries take the opposite approach, almost daring visitors and collectors to enter. Such is the case of Düsseldorf, Germany's Sies + Höke gallery, which has devoted about half of its space to a gigantic metal sculpture by Belgian sculptor Kris Martin that has some extremely sharp points.
The work is guarded by stanchions, and nearby signs read: "VERY SHARP OBJECTS / DO NOT TOUCH / ENTER AT YOUR OWN RISK.
"No big deal," Gallerist thought, as we made our way around the fabric barrier during this evening's vernissage. But then we became a bit disturbed. Those points were very, very sharp. We became extra aware of our every movement. The phenomenological magic of Minimalism became terrifyingly real. It was weird. But we made it inside.
"They were used as weapons in the first world war," Sies + Höke's Tine Lurati told us, when we asked her about the works. Mr. Martin's sculptures, she explained, were enlarged versions of tiny devices that were once placed on the ground in the hope that soldiers would step on them, injuring themselves. "Often, soldiers did not die right away," Ms. Lurati continued. "They would die later because of blood poisoning."
On two points near where the gallery's directors were sitting, there were wine corks, protecting people from accidentally backing up into the piece while chatting. We told Ms. Lurati that the precautions seemed sensible. "The fire marshal told us to do it," she said, motioning to the gates. "There will be lots of children coming in the next few days." She agreed that it made sense. The three-part work is priced at €90,000 ($121,000), and will be an edition of three, Ms. Lurati said.
Meanwhile, guests were walking by with glasses of champagne and wine. Some stopped and stared at the work. Only a handful ventured inside. "I think people are scared of it," Ms. Lurati said, nodding.
arusseth@observer.com