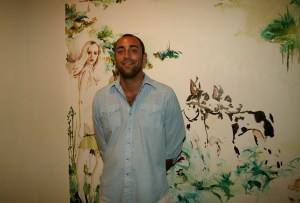 Los Angeles dealer Parker Jones announced today that he has closed his Culver City gallery, and joined the sales team of Gagosian's Beverly Hills branch.
"There is not a stable of artists, legacy or an exhibition space more impressive, so I am truly honored to be joining such a bright and committed team of gallerists," he writes in a letter that was posted on his gallery's website.
As an independent dealer, Mr. Jones had organized shows with emerging and mid-career artists, including Matt Connors, Phil Wagner, Ry Rocklen, Heather Brown, Steve Canaday and Joe Deutch, in recent years.
Before starting his eponymous gallery, Mr. Parker operated the Black Dragon Society gallery with a group of friends in L.A.'s Chinatown.
Announcing the gallery's closure, Mr. Jones added, "I hope that I have offered you a contemplative and lasting experience in viewing my perspective of critical contemporary art."