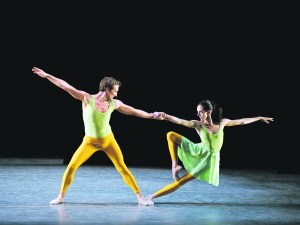 ABT nailed its contemporary colors to the mast for its recent one-week season at the City Center—no imported stars, no full-evening classics or faux-classics. Instead, Tharp (three pieces), Taylor (two), Cunningham, Ratmansky, Clarke (Martha) and Volpi (one each). Volpi? He's the 25-year-old dancer from the Stuttgart Ballet, originally from Argentina, who was commissioned to create a new piece for the occasion.
Let's start with it. Private Light features 10 dancers and an onstage guitarist (Christian Kiss) playing a variety of solos, ranging from Villa-Lobos and Albeniz to Prairie Home Companion's Pat Donohue. Ten dancers—but more to the point, five couples. At the start, in near-dark, the men and the women are lined up opposite each other, pecking and patting. This is a piece about getting it on. There will be kissing passim, moving from the peck to the passionate, as the various relationships grow more and more vexed—or at least the girls ought to be vexed, since they are not treated nicely: they're lugged on and off stage like mannequins (shades of Robbins's The Concert) and hauled around by their necks. Still, they seem to be enjoying the guys' bare chests.
Private Light indulges in some of today's more irritating choreographic tics. Everything is too dark (almost impossible to identify the dancers and the steps) and everything goes on too long. This piece would have been far more effective if it had been 10 minutes shorter—I'd start by whacking out of it the numbing routine for the five bare chests. On the other hand, it gives opportunities for at least two wonderful performers. No one in the company is more interesting than Simone Messmer, and here she's handed an edgy, exacting solo—spiky, angular, provocative; she's different from everyone else and you can't take your eyes off her. Impressive in another way is the young Joseph Goreck—slight, light, musical, secure and no showboat. (Not that I have anything against ABT's swarm of them, but we don't need another.) Good for Demis Volpi for identifying his special talent.
Look—this isn't a major work, but it's respectable, something I'm grateful for these days. And let's hand it to ABT for taking the chance.
Easiest to dismiss: Martha Clarke's Garden of Villandry, a short, three-character drama set to a gorgeous Schubert trio. (A romantic triangle set to a trio—get it?) Take Julie Kent in a pretty period dress, toss in two guys in cutaway coats, sample Lilac Garden (Tudor) and Enigma Variations (Ashton), and there you are—nowhere. The only excuse for this throwaway was that it fit in with the company's decision (very sensible) not to hire an orchestra for the week; at most there were a few onstage musicians—the rest was tape.
The Tharps were a mixed blessing. ABT's In the Upper Room lacks punch, and Tharp without punch is like a home without love. This time around the piece was even more lackluster than it was last time. Sascha Radetsky threw himself into it with his usual no-holds-barred enthusiasm, almost looking out of place amid the general tameness. These dancers do their best, but they're not trained in the fierce energies and attack that characterize Tharp; she just isn't second nature to them.
Her Sinatra Suite—the forerunner of Nine Sinatra Songs—was better, though not ideal. Everyone's favorite, Herman Cornejo, is everything terrific—except as the embittered, drunk, self-pitying but macho Sinatra of "One for My Baby." And he's up against our memories of Baryshnikov, the original. The 1998 Known by Heart ("Junk") Duet was given an extraordinary performance by Marcelo Gomes, one of ABT's superheroes. (The other, David Hallberg, is guesting with the Bolshoi.) Mr. Gomes is imposing, macho, tender, sexy, funny—just what Dr. Tharp ordered. His partner, Maria Ricetto, was just miscast. On the other hand, in a second cast, Gillian Murphy was the dominant partner; she has the strength to represent the essential Tharp woman. Known by Heart is canny, slick and lots of fun. It starts off with a bang and goes on banging. Boy and girl are at each other, tooth and nail (and fist), but it's all a game—and a shrewd variation on the classical duet form. This is a piece that should be in more repertories.
Mr. Ratmansky's Seven Sonatas (Scarlatti sonatas) looked just right on the City Center stage. It's a lovely piece, filled with absorbing detail that doesn't get in the way of the overall flow and harmony. Three couples eventually come together for a muted finale. In many ways it's reminiscent of Robbins's Dances at a Gathering, though it's less ambitious. Here Mr. Cornejo was at his most buoyant, boyish, ravishing best—everything so easy and clear and yet so strong. And for once Xiomara Reyes looked like a principal, suppressing her maddening smile and dancing fully, not coyly—yet another demonstration of what a magician Mr. Ratmansky is.