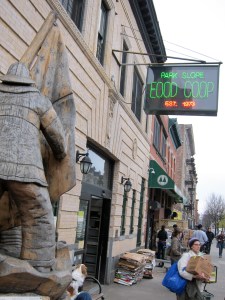 "I work check-out. You know, I check you out," said a 50-something, thin-haired man in a white, starched shirt, referring to his shift duty at the Park Slope Food Coop. "I can see why so many foodies at the Coop are single," he said, more seriously now. "The kitchen is a hard space to share."
Indeed, the densely packed potluck table at the first-ever Park Slope Food Coop singles night held impressive array of offerings: mustardy beet salad, broccoli sarita, chocolate orca beans and quinoa primavera.
Dozens of singles, ranging in age from late 20s to over 60 packed the upstairs room of the Coop. The easy topic of conversation, of course, was the food.
"I don't like to mix my starches with my proteins," said a woman in her 50s, dressed in a flaming orange shirt and wearing a heart-shape glass necklace.
She described how she likes to start her day with a vegetable smoothie as she twirled her hair around a finger. "Not only do I feel better, but I lost weight. And people say women my age can't lose their stomach, but I did."
A tall, pretty brunette in her 30s jumped between groups, hunting for a man named Tom. Allegedly, Tom had left a mysterious looking cold, gray soup on the potluck table and then disappeared. Occasionally, a brave soul would venture over to dip a plastic spoon into the thick, somewhat elastic liquid and gingerly scoop it into her mouth.
"I really can't describe it," said one woman. "Any part of it."
Another tried, "It's like a liquid brownie mix. No, maybe a raw cookie dough soup."
The youngest looking male in the bunch was a chipper, curly haired, baby-face brunette in flannel. His dish, a parsnip bread pudding, was a hit.
"I got it out of Martha Stewart Living," he admitted. However, he was quick to explain that the magazine "showed up at my house for six months, for some reason. I never read about how to make a handcrafted coaster or anything, but the recipes were really good."
There was a brief mingling hiatus halfway through the evening, when the event's coordinator, Liz, in a long dress, and with a large pink flower in her hair, asked if everyone could introduce themselves and their dish.
A recipe popularity contest then commenced. The single who brought the spinach balls received rave reviews. A good-looking young woman in a sweater dress and leather boots sheepishly admitted she had brought of a bottle of wine, which, according to Food Coop code, had to be discarded at the door.
"That was wrong," she told the room, looking guilty. "But I'm moving at 9 a.m. tomorrow, and I my kitchen is all packed up." She paused. "I found my new sublet through the Coop, though." With that, the crowd released a friendly murmur of approval, and she was saved.
Next came a woman who was sitting by the door in faded jeans, old gray running shoes and a large plaid shirt. "I think that a lot of us are single for different reasons. I'm 61, divorced, not by choice. And it's sometimes nice to talk about being single," she said, without standing up.
Another woman, sporting large-framed eyeglasses, concurred. "I agree. I can go dancing, and it's really nice when you don't have to do couple-couple every night," she announced.
Acknowledging a potential drawback of single life, however, she noted, "I mean, I could come home and lie there for three days vomiting without anyone finding me."
The group winced. Another woman whispered, "I feel for her, but you don't use the word 'vomiting' at a potluck."
A man reached for the cabinet that housed the stereo. "This is turning into a group therapy session. Let's get the music back on," he said under his breath, cranking the volume. With that, the evening was back on track.
The mythical Tom finally appeared from downstairs, where he had been working his requisite Coop shift and revealed the contents of his mysterious gray potage: fresh almond milk, chia seeds, maple sugar, vanilla extract and cinnamon.
"I only eat super foods," he said with a straight face. "My Vitamix changed my life."