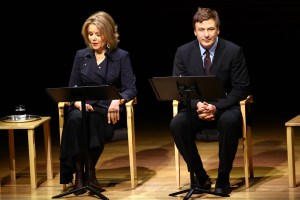 Last night as we entered the hallowed halls of Carnegie to see Alec Baldwin and soprano Renee Fleming in a staged reading of A.R Gurney's Love Letters, we thought of a funny joke to explain our tardiness. "We couldn't find the street called 'Practice,'" we apologized as we picked up our tickets. Zing!
Down in the subterranean theater of Zankel Hall, we ran into Gossip Girl's Margaret Colin, who revealed to us the location of Saturday's 100th episode party. Has it been that long? We asked Ms. Colin if she had heard about protesters from Occupy Wall Street running across the set several weeks back.
"No, but maybe we can work that in to the show," she laughed.
"Maybe Nate could lose his job at the newspaper and go join with the demonstrators," we suggested.
"And Blair would just hate that," Ms. Colin agreed.
Speaking of Nate's new job, was it true that Elizabeth Hurley's character Diana Payne was based on a certain beloved editor in chief we happened to know?
"That wouldn't surprise me at all," Ms. Colin said.
The program, hosted as part of Carnegie Hall's Young Notables series, featured the 30 Rock star and opera singer sitting next to each other but never making eye contact for two hours. (Kind of like most public transportation in New York.) While that could have made for a bust of an evening, the night was saved by the duo's performances and the richness of Mr. Gurney's plot, concerning over 40 years of the two character's correspondences as they grow up together, get sent to boarding school, fall in love (with each other and others), and fall apart. While we literally could just listen to Mr. Baldwin read a phone book for that amount of time, we were much happier to have the time pass with a little more emotion.
After the party we moved round the block to guzzle vodka at Providence while listening to a strange but not totally unwelcome blend of country and club beats provided by DJ Spooky.
"DJ Snoopy?" Ms. Colin had asked us.
"No, DJ Spooky…though Snoopy would be better," we conceded.
Despite the lack of a doggie DJ, the after-party had its share of weirdness. There were those shirtless Vikings in fur handing out cocktails, for one. We were unclear what they had to do with a two-person play about letter-writing, until two of the guests — a private educator named Emily and Economist Chris pointed out that they were probably there with ROKK Vodka, the alcohol sponsor loved by all Norse war gods.
We nibbled on some tiny plates of pizza and tried not to look totally disoriented (we were, after all, coming off a 24-hour OWS news binge), we wondered how people like Mr. Baldwin and Ms. Fleming could keep up the momentum of their respectively amazing careers without–as we felt we were about to–curl up in a fetal position or suffer a brain aneurysm. Only one answer came to mind.
Practice, practice practice.