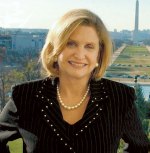 East Side Congresswoman Carolyn Maloney proposed yesterday the creation of a congressional "Contracts Caucus" to examine the contracting practices of city, state and federal governments.
"When I get back to Congress along with my colleagues I intend to form a Contracts Caucus to look at these questions and to look at where these federal dollars are going and to look at what we can do to help the economy of our great country and the selfless people that are working here because what I have learned today is frankly upsetting to me," the congresswoman said at a briefing yesterday with DC37 to discuss the impact of federal funds on jobs and services.
DC37 is the city's largest public sector labor unions, and it has gone to war against the Bloomberg administration over what they see their increasing reliance on private sector contracting.
Still, if Ms. Maloney's idea becomes a reality, it would amount to unprecedented federal oversight into the way the city operates, and she seemed to imply that Congress c0uld use the federal treasury to influence local decision making.
"I think we are interconnected," Ms. Maloney said after the panel. "And I was frankly shocked at the number–that a third of the entire state budget comes from the federal government. That is huge. That is absolutely huge. So we can look at ways that we can coordinate between the city, state and federal governments to better manage the taxpayer's dollars."
Congresswoman Maloney compared the effort to the 9/11 caucus that she formed with Republican Christopher Shays of Connecticut after the attacks in Lower Manhattan.
"When we had a crisis after 9/11 and it was a huge crisis in our great city, a number of us came together and formed the 9/11 caucus, and out of that caucs we formed a plan to rebuild, to take of workers, to help the economy. We literally created Homeland Security."
In her comments before the union, Ms. Maloney harped repeatedly on an incident where she said that the city's Department of Education tried to hire teachers in Australia to train New York City teachers.
"So much of the money comes from the federal government, we have a responsibility to make sure that it isn't spent inappropriately," she said.  "Maybe we need federal legislation that before you contract with a foreign country for teachers you allow the teachers here to compete for the contract. Maybe it's as simple as that."
And, Ms. Maloney suggested that if the contracting issue were solved, it could clear the problem from Zuccotti Park.
"I think there are young people down there at Occupy Wall Street that if given the change could do the imaging for our maps. All these kids are computer experts that graduate from schools now," she said. "Maybe some of these kids down there at Occupy Wall Street that are unemployed, maybe if you give them $1,000 and they sat down and did their proposal about they could analyze where the dollars are going in health care. Let's give our people a shot."