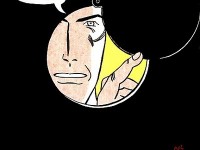 A grueling 91-lot contemporary art sale at Christie's last night paid off, bringing in a total of $247.6 million with premium included, within its pre-sale estimate of $226.5 million-$312.3 million. At least 13 auction records were set over the course of the evening, including new high marks for Paul McCarthy ($4,562,500), Barbara Kruger ($902,500), Louise Bourgeois ($10,722,500), Charles Ray ($3,106,500) and Roy Lichtenstein ($43,202,500). It was a "marathon sale" in the words of department head Brett Gorvy, but a lively one for the most part.
The evening kicked off with works on offer from the collection of computer magnate and West Coast impresario Peter Norton. Every single lot sent to the block by Mr. Norton sold, and his collection alone ushered in nine new artist records, including one for Mr. McCarthy, set by his dealer Iwan Wirth, after an extended battle with the phone bank over the 1994 sculpture Tomato Head (Green). Applause erupted when it finally sold to Mr. Wirth. ("Yes," said auctioneer Christopher Burge wryly, to the applause at the end of the bidding. "Let's hear it for Paul McCarthy.")
Robert Mnuchin of L&M Arts more than doubled the standing record for Glenn Ligon (set by Jennifer Aniston a few months ago at David Zwirner's charity sale for Haiti, at Christie's). Mr. Gorvy said he was pleased with the types of bidders in this auction, adding that many were from American museums that had been bidding at the sale and said that Christie's doesn't "usually see American museums so active" as they were during the Norton bidding.
The excitement continued into the post-war auction proper, with an early Louise Bourgeois making a new auction record for the artist at $10.7 million. Jose Mugrabi was one of the under-bidders helping to push the late artist's record beyond its previous mark of $4.5 million. The price marked a new record for a post-war work by a female artist.
There was stiff competition for an early Robert Ryman (lot 31) from 1965, an especially sought-after period, with the painting on offer shooting past its high estimate of $600,000 to sell for $1.6 million at hammer, with adviser Neil Meltzer and dealer Christophe Van de Weghe among the bidders. ("I hate it when people make $50,000 bids for a work way past its high estimate," moaned a journalist at the back.)
Roy Lichtenstein received a new record thanks to his important 1961 work of a man peering through a peephole, which had been prominently featured in publicity materials for the auction, and which set the artist's auction record when it was last sold, in 1988. The work ultimately went to former Christie's specialist and now private dealer Guy Bennett for $43.2 million, with premium.
As the auction wore on people, the audience began to lose steam. Always the trendsetter, Leonardo DiCaprio left his seat alongside the Nahmad family around lot 58, and by lot 81 most of the room was empty.
Of the 91 total lots on offer, just nine went unsold (a sell-through rate by lot of 90 percent), and even more impressively, only 22 lots in the whole evening sold for below their low estimates.
"It shows that there is still a market for good material with reasonable estimates," said Mr. Van de Weghe, after the auction.
"It seems like it, doesn't it?" said dealer David Zwirner, responding to a similar theory. He'd snagged an early Richard Tuttle triptych for $422,500, as well as a Jeff Koons comprised of a pair of basketballs suspended in a tank for $4.2 million, after a bidding war against Mr. Mugrabi and dealer Per Skarstedt.
A fluorescent light tube piece by Dan Flavin, whose estate Mr. Zwirner represents, failed to sell, after a final bid of $850,000, despite a third party guarantee. But Mr. Zwirner didn't seem concerned. "It was a great piece but it wasn't Flavin's night," he shrugged. "What can you do?"