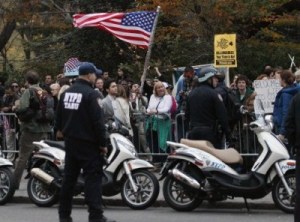 Occupy Wall Street made their way up Fifth Avenue on Sunday armed with drums, frying pans—some so recently used they still had remnants of  lunch in them—buckets, cow bells, sticks, tambourines, flagpoles, paint pots, lids, hands, harmonicas, trumpets, guitars and children. In short, anything and everything they could find to use as an instrument. This was with the aim of "annoying the rich people who live around here," said protestor, Charles Young. The more specific aim was to "annoy" mayor Bloomberg, whose residence on 79th and 5th, was the chosen location for the Sunday afternoon,  24 hour drum-circle.
There was a feeling of revenge amongst the protestors as they marched up the sidewalk toward the mayor's house. According to event organizer Aaron Black it was, "a response to them coming in and beating us up at our camp the other day." Pausing to offer, "So let's go pay him a visit." Mr. Black was shouting instructions to the initially modest crowd, and continued, "We're going to be peaceful and we're not going to break the law, but he's going to hear us."
The march to the mayor's block was an organized event, with police initially closing off parts of the surrounding roads and later blocking all access to the mayor's house, with barricades at either end of his street. One patrolling officer stated that, despite it being scheduled as a 24 hour protest, he doesn't expect it will be. "We'll be here however long they're here for. It's not up to us, it's up to them."
Many of the people beating their drums in unison, offered little in the way of a unified cause though. One lady stopped hitting her frying pan for a moment, to state her reasons for being there. "I saw a young boy's skull opened up by ten officers – we can't allow that – they should put him in handcuffs and charge him, not open up his skull."
Artist, Holly Van Voast, who was standing shirtless with a painted moustache, next to a large placard, explained that she actually thought that Mayor Bloomberg was unfairly taking the blame and that he has only made a couple of mistakes. So why was she there and topless?  "I'm here to get attention for artists, because it's so difficult for artists to get attention."
Mr. Young, offered further reasons for beating his tambourine outside Mayor Bloomberg's residence. He informed us that, "apparently the First Amendment doesn't apply if you're in a sleeping bag. That's why the fuck I'm here."
Around thirty-five minutes after the scheduled two o'clock start the drums ceased, but only temporarily. They resumed again around 15 minutes later with increased volume and increased numbers. Police eventually cordoned off the entire block and protesters have, thus far, stayed behind their barricades, while the authorities focus on keeping the traffic moving. One officer stated that, they didn't "want there to be any disturbance, other than the noise, of course."
When asked whether he will be there for the full duration, Mr. Young, who had returned from the ring of drummers to make one final point, said smiling, "No. I won't be staying for 24 hours…I've just come to show my support." Whether this is the case for most of the protestors is yet to be seen, but Mayor Bloomberg would be wise to book himself into an hotel this evening and make sure he gets some of those complimentary ear-plugs too.