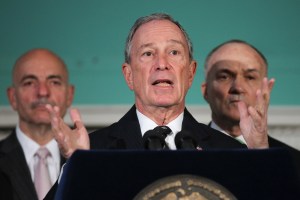 Mayor Bloomberg briefed reporters this afternoon on a potential school bus strike that would affect over 152,000 city students. Workers from Amalgamated Transit Union Local 1181, which includes 75% of the city's school bus drivers, are warning of an immediate potential strike if the city doesn't agree to their contract negotiation demands. At the press briefing, Mayor Bloomberg outlined steps the city will take if bus drivers walk off their job and Schools Chancellor Dennis Walcott called the strike "shameful."
The Mayor said the city was prepared to hand out round trip Metrocards to students and parents who need to accompany young and special needs children every day of the strike. He also said students would be excused for up to two hours of lateness.
City attorney Michael Cardozo told reporters the strike was illegal. According to City Hall News, Mayor Bloomberg called the threat of a strike "outrageous" and said the city is seeking an injunction in Federal Court. Schools Chancellor Walcott did not mince words when he gave his opinion of the strike.
"The union's threat to strike and leave 152,000 students and their families in the lurch is nothing short of shameful," he said.
Local 1181 is striking in response to the Department of Education bidding for new bus contracts.