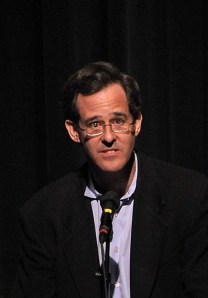 Conventional wisdom in the 2013 Mayoral race suggests newspaper Tom Allon is a longshot to win in a field that's expected to include 2009 runner up Bill Thompson, Public Advocate Bill de Blasio, City Council Speaker Christine Quinn, Comptroller John Liu and Manhattan Borough President Scott Stringer. Mr. Allon got his campaign off to a head start this week with the race's first TV commercial and a new web site.
Yesterday, he explained his reasons for getting in the game early and why he thinks he can win to the Observer. "I wouldn't call it a field of heavyweights." Mr. Allon said.  "It is, you know, I think a wide open race."

Mr. Allon, who described himself as an "independent" in his ad, is the CEO of Manhattan Media LLC, which publishes a roster of community newspapers, political papers and lifestyle magazines. He declared his intention to run for Mayor back in July and he plans to kickoff his campaign with a party in the at the Empire State Building November 16. None of the other likely candidates have officially entered the race yet.
"I'm not a career politician, so therefore, I don't have the advantages of the incumbency of office to dispense favors over the next two years. I have to start fundraising now so that I am a competitive candidate over the next two years," Mr. Allon explained. "I need to show both my donors and voters that I'm serious about this campaign and I'm going to be in it for the next two years to win."
Mr. Allon isn't sure who he's running against, but unlike most people, he thinks he has a good shot.
"I don't think the field has become clear yet because Bill de Blasio and John Liu both have full time jobs now and they also could run for reelection in 2013," he added. "I think I'm the only person who's actually declared that I'm running for Mayor in 2013; possibly Bill Thompson has officially declared, Christine Quinn, I don't think has officially declared, although she has nowhere to go but to run for Mayor."
Mr. Allon said he's "focusing on getting my name out and getting my message out." That message includes a heavy focus on improving the city's public education system and reducing unemployment.
"It's all about jobs and it's all about education, and the rest is commentary," Mr. Allon said. "I'd like to be judged on how well I'd be able to bring down the unemployment rate, and bring down poverty and improve the schools. Those are the three metrics that I think I'd want to focus on."
Mr. Allon is also keeping his day job at Manhattan Media.
"I'm going to continue being the CEO of this company for as long as I can and, you know, any campaigning that I do will be on weekends and nights. I'm doing fundraisers in the evenings and doing strategy stuff on the weekends," he added. "I plan to be doing this up until I move into Gracie Mansion."
When he declared his intention to run last summer, Mr. Allon sent a memo to Manhattan Media staff announcing that he "will no longer be involved in the day-to-day editorial process of City Hall or any mayoral political coverage in our weekly newspapers."
"News of my candidacy will put some of our hard-working and stellar journalists in an awkward position; they cover politics, particularly at City Hall, that will be directly relevant to my own ambitions, and we have formulated policies to ensure that they — and all of us — maintain the credibility and excellence that has allowed us to thrive as a local media company," he said.
"I encourage our journalists to cover the Mayoral race, as well as politics in general, with neither fear nor favor; I am a journalist first, and would have it no other way."
Since then, Mr. Allon believes his reporters have proved their ability to remain unbiased.
"If you also look at the coverage over the past three months since I announced, I've gotten bashed in my own newspapers on about three or four occasions," Mr. Allon said.