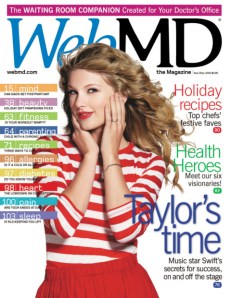 WebMD the magazine, the print complement to the hypochondriacs homepage, is pitching a new booking option for celebrities overlooked by conventional glossies in favor of the next child actress's little sister.
The self-proclaimed "only A-list celebrity health waiting-room magazine"  touts a "turnkey process," that allows celebrity clients to book a cover and pimp their latest project in just 20 minutes.
"We're happy to use existing art," marketing materials sent to the Observer explained.
Alicia Keys, Mira Sorvino and Omar Epps have already taken up the publishers on the convenient offer. Those seeking professional medical advice in the coming months will find Julianne Moore, Jewel, and Jennifer Lopez cover stories.
Each issue of WebMD the magazine offers three booking options. The cover  story focuses on the celebrities' current and upcoming projects and "any cause they are passionate about." A front of book interview feature, "Medical File," is an interview that focuses on a client's charity work. The last, "Checkup," is a Q&A about "what's new" in a celebrity's life.
Not unlike your standard glossy.
Even better, what WebMD lacks in prestige it may make up for in circulation. Custom publishers The Magazine Group say the magazine is distributed in 90 percent of American doctor's offices, with a per-issue readership of 10 million. (Think how many germy hands flip through each waiting room magazine!) And there are enough spin-offs to support every A-, B-, C-, D-, and E!-list reality show star: WebMD Baby, WebMD Smile, WebMD Campus, WebMD Pregnancy, and WebMD Pets.